You Can Read the First Chapter of Harper Lee's New Book Right Now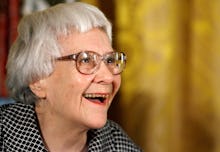 Harper Lee and To Kill a Mockingbird fans who can't wait until next Tuesday for the author's new book, the Guardian and Reese Witherspoon are here for you.
The first chapter of Go Set a Watchman, Lee's sequel to To Kill a Mockingbird, is available on the Guardian's website right now. In addition to a text-only version, a recording of Witherspoon reading the text is also available.
Source: Soundcloud
In the story's introduction, we find Jean Louise Finch, best known to the audience as Scout from To Kill a Mockingbird, on a train from New York heading to visit her father Atticus in Maycomb, Alabama. The text is mostly scene-setting, catching the audience up on what's happened since To Kill a Mockingbird. Interestingly, the events of the first book aren't directly referenced, instead using familiar characters for what appears to be a whole new story.
Lee's prose is as impressive as ever, as is evident in the book's first paragraph:
Since Atlanta, she had looked out the dining-car window with a delight almost physical. Over her breakfast coffee, she watched the last of Georgia's hills recede and the red earth appear, and with it tin-roofed houses set in the middle of swept yards, and in the yards the inevitable verbena grew, surrounded by whitewashed tires. She grinned when she saw her first TV antenna atop an unpainted Negro house; as they multiplied, her joy rose.
Having Witherspoon read Jean Louise's narration is an inspired choice. The actress allows the slightest lilt of her native Southern accent to permeate. In all the discussions of a movie adaptation sure to break out, Witherspoon has made herself an easy frontrunner. She's got the right attitude, too; when it was announced she'd be recording the audiobook, Witherspoon expressed her enthusiasm in a statement.
"As a Southerner, it is an honor and privilege to give voice to the Southern characters who inspired my childhood love of reading, Scout and Atticus Finch," she said. "I am eager for readers to be transported to a pivotal time in American history in the manner that only Harper Lee's gorgeous prose can deliver."
Expectations are high for the new book, which came under scrutiny after the announcement of its release, over questions that Lee wasn't able to consent to its publication. However, those concerns have been somewhat allayed by recent reports of the author's support.
Go Set a Watchman arrives next Tuesday, along with the full audiobook featuring Witherspoon's narration. Read the rest of the first chapter over at the Guardian.