New Bill Would Fix One of the Biggest Problems With Buying Legalized Weed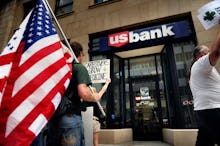 A bipartisan group of senators from three of the four states to legalize the recreational use of marijuana introduced a bill Thursday that would allow banks to do business with weed retailers without the risk of being prosecuted by the federal government.
Legalized cannabis is a fast-growing industry, with an estimated value of $2.7 billion in 2014. But the conflict with federal law, which still designates marijuana as a Schedule I drug under the Controlled Substances Act, means banks have been reluctant to accept deposits from retailers and wholesalers.
For that reason, buyers cannot use credit cards when purchasing pot and businesses have been forced, in the words of Sen. Jeff Merkley (D-Ore.), "to shuttle around gym bags full of cash" rather than making traditional deposits. 
"This has forced the industry to adopt an all-cash business model that fosters violent crime and puts all Coloradans at risk," Sen. Cory Gardner (R-Colo.) said in a press release. "This commonsense legislation solves a major public safety problem in my state by giving legitimate businesses acting in compliance with state laws access to the banking system."
What it does: The Marijuana Businesses Access to Banking Act of 2015 would block federal regulators from threatening legal action against banks for "providing financial service" to businesses selling state-sanctioned recreational or medical marijuana. This includes protections from the threat of downgrades or the imposition of punitive limits on federal insurance caps. In what could be a major boost to the industry, the legislation would also provide front-end cover to banks wishing to offer loans to new or expanding marijuana businesses.
The states would profit, too. Like in any cash business, retailers can easily underreport earnings to lower their tax burdens. By opening up the more closely regulated commercial banking system, the states would be able to keep closer tabs on businesses and their employees.
To that end, the Treasury Department released a memo in February 2014 intended "to enhance the availability of financial services for, and the financial transparency of, marijuana-related businesses" by ordering federal prosecutors to stand down as long as the banks in question are dealing with law-abiding businesses. But the chilling effect remains, with no clear protections for financial institutions in the event a reputable-seeming dispensary is found to be double-dealing on the black market.
Going far enough? Dan Riffle, the Marijuana Policy Project's director of federal policy, agrees that the new bill would be a boon to retailers and state governments, but calls it a "Band-Aid" and worries the bank issue obscures more broad concerns about the future viability of the industry.
"Banking is just one symptom" of the conflict between state and federal marijuana laws, he told Mic in an email Friday morning. "That conflict manifests itself in a lot of ways: banking, the tax code, employment laws, public housing regulations and environmental regulations."
Riffle points to legislation like California Republican Rep. Dana Rohrabacher's "Respect State Marijuana Laws Act," which would amend the federal Controlled Substances Act to exempt "any person acting in compliance with state laws relating to the production, possession, distribution, dispensation, administration or delivery of marijuana," as as a better, more holistic approach to resolving what he describes as a fundamental and growing legal battle.
Time on their side: For supporters of the Merkley bill and other legislative action to further legitimize the industry, public opinion is providing a rising tide of support.
As illustrated in the graph below, support for legalizing marijuana may be narrow today, but a decades-long trend suggests the next 5 to 10 years could see the gap open up, providing political leaders with the necessary cover to act more boldly on these questions.
As long-time proponents of marijuana prohibition begin to disappear from government — "A lot of marijuana reform over the next few years is basically going to be waiting for old people to die, to put it impolitely," Riffle told Mic in March — the passion is increasingly shifting toward efforts to build consensus and deliver comprehensive reform of American drug laws.