World Champs US Soccer Team Is the First Women's Team Ever to Enjoy a Ticker Tape Parade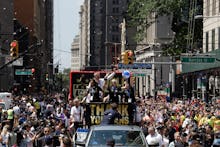 On Friday, New York welcomed the U.S. Women's World Cup soccer team, fresh off their championship triumph over Japan at the FIFA World Cup, with a ticker tape parade. 
The route saw team members travel down New York's storied "Canyon of Heroes," where the city has honored world leaders, athletes and other VIPs for over 100 years. Despite the century of esteemed company, the parade was a milestone for the city as it was the first to exclusively honor a women's team-sports team.
Previously, only a handful of women have ever received the honor. In 1926, Gertrude Ederle was honored as the first woman to swim across the English Channel and in 1960, Olympic figure skating gold medalist Carol Heiss Jenkins. Later, in 1984, the U.S. Women's Olympic gymnastics team was also honored with a parade.
The fanfare also featured a triumphant Mayor Bill de Blasio standing alongside the winning team as the parade made its way down Lower Manhattan. The total cost of the event was expected to be around $2 million. The expense has made old-fashioned ticker tape parades an increasingly rare sight in the city, which now usually reserves the honor for victorious local sports teams, like the MLB's Yankees and NFL's Giants. Despite its name, the days of using actual stock ticker tape are long gone. With the New York Stock Exchange long ago having switched over to digital, the city has swapped out the traditional tape for confetti.
People sent out their best photos of the festivities over social media using the #USWNTParade hashtag. 
The parade comes amid controversy as FIFA and much of the sports world took heat after the respective salaries for women's and men's soccer players were widely publicized. Despite being world champions for a third time, the U.S. women's team was paid only $2 million in awards by FIFA. Meanwhile, the most recent winning men's team saw payouts of roughly $35 million. Lucrative sponsorships for the women's team, including the parade, have been few and far between; the parade collected just $450,000 worth of sponsorships, which is less than a quarter of the $2 million price tag.
So while parades are indeed nice, the best way to honor these incredible athletes might just be to show them the money.