FBI Says Failure in Background Check Allowed Dylann Roof to Purchase Handgun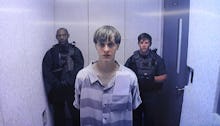 The gunman who killed nine people in a racially motivated attack at a Charleston, South Carolina, church should never have been allowed to purchase a weapon.
Speaking to a small group of reporters in Washington, D.C., on Friday, FBI director James B. Comey said a failure by an FBI examiner in the background check process allowed Dylann Roof's request to slip through the system.
Because of Roof's background of drug possession from a previous arrest, federal law should have barred him from purchasing the gun. The FBI examiner reviewing his April 11 application spent days deciding whether to allow the sale, and apparently missed the drug possession admission. The gun was issued on April 16.
"We are all sick that this has happened. This case rips all our hearts out," Comey told ABC News. "We wish we could turn back time."
Comey told reporters the nation's existing gun control laws should have been enough to prevent Roof from obtaining the .45 Glock pistol he used to carry out the massacre. However, according to Comey, because of a "complicated layout of police jurisdiction in Columbia," ABC News reports, the examiner failed to bar Roof's application. Though Comey said the FBI examiner "did what she was supposed to do and followed our protocols," the FBI will be carrying out a standard 30-day review of the mistake.
The revelation adds additional nuance to the United States' ever-evolving debate over gun control. Shortly after the massacre, President Barack Obama stated his personal weariness with events like Charleston and his belief that gun control was an issue that would have to be dealt with. 
"At some point, as a country, we have to reckon with what happens," Obama said. "It is not good enough simply to show sympathy." If the FBI claim is true, however, it would indicate that existing gun laws would have been sufficient to stop the gunman if there had not been human error. 
Roof, who was heavily influenced by white supremacist websites, had been hoping to start a "race war." At a bond hearing shortly after he was apprehended in North Carolina, he faced initial charges of nine counts of murder. During the hearing, which was broadcast live, family members of the slain were heard offering their forgiveness. 
Far from a race war, Roof's actions united individuals — black and white — around the country as people rallied to support the people of Charleston. On Friday, thanks in great part to Roof, the state of South Carolina officially lowered the Confederate battle flag which has flown over the Statehouse grounds for more than half a century.