The Story Of How Fetty Wap Became Famous Will Make You Appreciate His Success Even More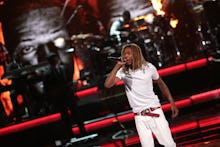 It's unlikely any rapper has enjoyed a faster rise into hip-hop's upper echelons than Fetty Wap. 
He started making music only two years ago, and he's already topping the charts. His breakout hit "Trap Queen" has been on Billboard Hot 100 chart for 24 weeks, peaking at No. 2. The success of that song earned him a spot in XXL's 2015 Freshman Class alongside OG Maco and Vince Staples. Just this week, Fetty Wap's next hit "My Way" broke into the Hot 100 and began its own momentous climb.
Born Willie Maxwell, rapper Fetty Wap has earned all this success through a tireless hustle. He started his buzz by selling mixtapes on the corner, like many golden age greats. He developed a fan base in his hometown of Paterson, New Jersey, which supported him in crafting the unique warbling flow and artistic persona that's launched his music into the mainstream. Now that Fetty Wap has left Paterson, he's determined not to go down in the history books as a one-trap pony. He has a wealth of stories to tell, and he's just getting started.
The eye: Seeing Fetty Wap for the first time, it's easy to fixate on the rapper's missing left eye. He kept its story a mystery in the early stages of his career, and rumors circulated about it that he'd lost it to a fireworks accident or a shotgun blast. The reality? He lost his eye to congenital glaucoma.
"When I was younger it used to bother me a lot," the rapper told Noisey. "Not bother physically, but when people would say how I looked, I fought a lot. I used to fight a whole lot. Now it doesn't bother me at all."
He wore a prosthetic until he was around 12, then decided he liked the way the broken eye set him apart and stopped wearing it. It does help distinguish him, providing a Bond-villain swagger. He's even gone out of his way to draw onlookers' attention to the area, lining the socket with tattoos. "If they gonna stare, I'm gonna give them something to look at," he told Pitchfork.
The spark: Maxwell describes his hometown, Patterson, as a "highly segregated city," according to Civil TV. Drugs and violence are easier to find than culture in parts. "Certain people haven't ever been to this side of Patterson though they lived their whole lives," Maxwell told Civil TV. "It's crazy. As an artist, if you can't explore your city, you're not going to be able to stretch your thoughts."
The boundaries of Patterson kept Maxwell's ambitions halted for years. He dropped out of high school and resisted getting a job. It wasn't until about four years ago, when his son, Zoovier, was born, that he started to actively look for a way out. "Before he came here it was just all about me, I didn't care about nothing really," Maxwell told Noisey. "I didn't have nothing to live for so to speak, because I lived my life however I wanted to live it."
Maxwell was extremely nervous his son would be born with the same eye condition he suffered. When he wasn't, it was like Maxwell's own eyes were opened. "When he was born, it really took me two weeks like, 'You have a son, what are you doing?' Just switch it up a little, and it got me focused in my life," he told Noisey. 
Music became his hustle. Maxwell hit the streets, selling copies of his mixtapes, shirts, sweatshirts and hats repping his rap collectives, Remy Boyz and Zoo Gangs, on the streets of Patterson. "We was doing like it was a back-in-the-day street corner," he told Civil TV. "We'd come out here every day at a certain time and wouldn't leave until everything was gone."
Eventually the hustle paid off. "Trap Queen" was the first time Fetty Wap tried his operatic half-rapped, half-sung style, which has since come his trademark.  "Everybody was rapping ... so I did something different. I started singing. But I ain't want to be a singer, so I did my own thing," he told Billboard back in March. 
It worked in a big way. The track first made its way around Patterson before slowly catching the ears of some influential DJs, like Funkmaster Flex, as well as rappers Bobby Shmurda and Kanye West, who called it his "favorite song out right now" at a concert in February. Fetty Wap's supporters built the buzz, and the strength of "Trap Queen" did the rest.
Now that he's entered the mainstream, Fetty Wap is recording as much as possible. He told Hot 97 that when he goes into the studio, he doesn't leave until he's recorded between 20 and 30 songs. In this way, he takes after Gucci Mane, one of his idols and among the most prolific rappers in hip-hop, who records in a similar fashion. Fetty Wap's SoundCloud is constantly pumping out new tracks, many of them recorded off the cuff, with minimal editing or rewriting. He's got 68 posted as of Monday, with more coming every few days.
Source: SoundCloud
"I don't do this to be famous — I do this so the people around me can live better, and I can live better with them," he told Pitchfork. "A lot of people don't make it from where I'm from; when you got certain dreams, it's just something you see on TV."
Maxwell achieved what many around him thought was impossible. With that success he's bought his mom a new home, helped some other rappers from his city, such as Montana Buckz and P-Dice, get some attention and ensured his two kids will wake up to food on the table every morning. 
"Nothing but greatness is coming from this for me," he told the Boombox. "I tell everybody, ["Trap Queen"] isn't even my best song. This is just the breakout for Fetty Wap. There's going to be a lot more coming."