13 Photos of the "Devastating" Typhoon Chan-hom That Just Hit China's Eastern Coast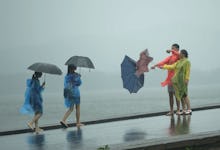 The historic Typhoon Chan-hom made landfall in eastern China on Saturday, forcing the evacuation of more than 1 million people and doing extensive damage to infrastructure and property.
The AFP reported that the storm is expected to "skirt the coast before heading back out to sea rather than going further inland," but that it was "paralyzing transport links and devastating farmland" as it passed.
According to Weather Underground's Jeff Masters, the typhoon is the strongest to hit within 200 miles of Shanghai in 35 years. While the storm weakened as it approached the coast, Masters said that storm surge in Shanghai could be "equivalent to a 1 in 200-year flood" and compared it to July 1949's Typhoon Gloria, "whose storm surge overwhelmed the city's flood walls and left much of Shanghai a flooded ruin, with over 250,000 people homeless."
The scale of the damage may not be fully known for days, and it is very unlikely that the fallout will be that extensive. But photos out of China already show staggering storm surges, trees knocked over by high winds and extensive coastal flooding. Here are 13 photos of what's happening.
1.
2.
3.
4.
5.
6.
7.
8.
9.
10.