10 Tweets Challenging the Media's Awful Coverage of Serena Williams' Body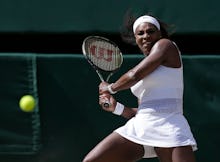 Serena Williams smashed through Wimbledon on Saturday, defeating opponent Garbine Muguruza to win her 21st major tennis title and sixth Wimbledon title.
But while Williams' victory has many proclaiming her the best athlete in the world, commenters on Twitter and the media immediately tried to turn the focus onto the color of her skin, her supposed lack of femininity and her weight. As Vox's Jenée Desmond-Harris reported in June, this sad spectacle happens all the time to Williams (especially when she's winning). Tweets like this despicable piece of work are commonplace.
There's also the subtler sexism from mainstream sources, as covered in a recent New York Times article covering how female athletes like Williams suffer from "body-image issues."
Twitter, for its part, responded en masse by challenging the loads of online racism and misogyny tossed Williams' way. Here are 10 tweets standing up for Serena Williams during the peak of her comeback.
First, users attacked the idea that William's physique is what set her apart from her opponents.
Some hypothesized that yes, this is about race:
Here, a commenter pointed out that denial of racism is in and of itself a form of racism:
Others challenged the sexism inherent in questioning whether Williams' success is due to her "masculine" build.
Meanwhile, this user noted that the obsession with Williams' build is not only gross, but factually inaccurate:
(The listed weights are terribly inaccurate anyhow, making them a poor metric for performance.)
This Twitter user mused that black, female athletes' success is often met with the kind of bewilderment commentators wouldn't have for other leading sports players.
Mic's Scott Bixby added that a male player as talented as Williams would likely be considered the "greatest athlete in America."
This user summed up why Williams' dominance is so important:
Finally, this guy gets it: