Bryan Cranston Literally Drops the Mic After Sick Mom Burn at Comic-Con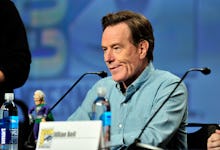 Here's yet another reason to love Bryan Cranston: he's pretty good at dropping burns so intense they require attention at the local trauma unit.
Cranston, who spent quite a lot of time in Albuquerque while filming the hit AMC show Breaking Bad, turned the tables on a fan at Comic-Con International: San Diego who asked him what he enjoyed most about his hometown:
Then, an actual mic drop:
Well, there's no topping that.
Thank you, Bryan Cranston, for being much funnier than yet another "yeah science, bitch!" joke.
Watch the clip below: