10 Photos and Announcements That Made Comic-Con 2015 Amazing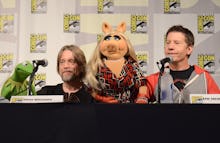 If news out of San Diego Comic-Con has seemed a good bit tamer this year than in the past, blame Iron Man and Captain America.
In recent years, the hugest announcements at California's greatest gathering of geeks have been about Marvel Studios and their upcoming projects. Some have accused the convention of becoming too big, or losing sight of its fans. It's not an unfair complaint, and those objecting were probably happy to see Marvel skipped Comic-Con this year, along with Sony and Paramount. (It might also have something to do with the D23 Expo, the Marvel-owning Disney's own convention, taking place a month from now.)
Yet there was still plenty happening in San Diego this weekend, from big announcements to appearances from the biggest and brightest stars. Here were 10 moments that made the convention great.
1. Star Wars: The Force Awakens quietly stokes our excitement.
One can assume the reason Marvel bowed out of Comic-Con this year was because Star Wars: The Force Awakens was set to storm San Diego. This turned out to be not quite the case — there was no new trailer, and the only new footage was from behind the scenes. It left the convention without much of a marquee moment, instead letting less high-profile projects steal attention.
That said, it never gets old seeing the classic trio of Carrie Fisher, Mark Hamill and Harrison Ford together. And finding out that after nearly four decades, Ford finally likes Star Wars, is a pretty great treat.
2. Batman v. Superman: Dawn of Justice drops a full trailer.
We've already broken down the new Batman v. Superman trailer that debuted Saturday, but we can't really say enough about the very human Holly Hunter and the highly Wonder-ful Gal Godot in it. Yet there was a full panel starring Henry Cavill and Ben Affleck as well. 
Some highlights from the panel: Metropolis and Gotham City are now neighbors. Jesse Eisenberg looks like he's having a blast as Lex Luthor. And Affleck is just trying to ignore the big shoes he has to fill as Batman.
3. The Muppets spark fan love.
Forget Thor and Hawkeye — we're here for the true superheroes, Kermit and Fozzie Bear. The panel for The Muppets, ABC's new series set behind the scenes of Miss Piggy's talk show, was easily the most adorable of the weekend. 
So far, the show's treatment of female Muppets seems mixed: While Miss Piggy is technically the only female host of a late night talk show in the Muppets universe, the show is also lacking in female characters. "Aren't I enough for you?" Miss Piggy joked.
4. The thrill of Deadpool
In lieu of a planned spectacle, this year's convention was dominated by a surprise: the panel and footage for the Ryan Reynolds-starring Deadpool. The entire panel is available online, though the only actual footage is available through leaks as of now. But the panel generated a raucous standing ovation and praise unlike anything else in San Diego. This X-Men spinoff is definitely an upcoming title to watch.
5. X-Men: Apocalypse's Olivia Munn steals the show.
X-Men had one of the biggest non-DC Comics presences at the festival — an impressive showing for a franchise often thought to be the third banana to those of the major studios. Yet Olivia Munn was the highlight, as she continues to be throughout her career. Whether in Magic Mike or The Newsroom, she's managed to be utterly witty and charming.
The star told Entertainment Weekly how excited she was to play telekinetic and telepath Psylocke in typically charming style. "It's one of the coolest things," she said. "It really doesn't feel [real]. It's a very cliche thing to say, but it's just a really surreal thing when you're on set."
Bonus X-Men moment: this selfie of the universe's stars, taken by @midnight host Chris Hardwick:
6. Game of Thrones' cliffhanger resolutions
Did you hope you would make it to next season of Game of Thrones with cliffhangers still hanging? No such luck (and spoiler alert); the team's Comic-Con panel revealed that Stannis is dead. His fate was left hanging at the end of the season finale, considering the show's tendency to bring characters back from the brink, but that is indeed the end of him.
Not every cliffhanger is resolved, though: We still know nothing of Jon Snow's fate.
7. The Hunger Games' final appearance — or is it?
While Jennifer Lawrence, Josh Hutcherson and Liam Hemsworth may have had enough of Panem and the Hunger Games universe for now, Lionsgate may not quite be ready to call an end. Though the final adaptation of Suzanne Collins' book series is out this November, Hutcherson let slip that there may be additional Hunger Games movies on the way. 
Something tells us Katniss won't be part of the universe — at least if Lawrence's increasingly shining star has anything to say about it.
8. Scream Queens prepares us for delightful fear.
We're so psyched for this fall's new show Scream Queens, from creator Ryan Murphy (American Horror Story) and starring, among others, Emma Roberts, Lea Michele and the original horror movie queen, Jamie Lee Curtis. Perhaps the most exciting development is the news that the show will feature stakes true to the horror genre. Multiple characters will die, with only some continuing on to next season — with their actors. It's nice to see a show that will actually keep us on our toes.
That said, the true highlight of the festival was Curtis' jab at her own career post-Freaky Friday to now. Activia's marketing team is probably, well, shitting themselves.
9. Bill Murray's Comic-Con debut
Would you believe this is Bill Murray's first Comic-Con? He's such a beloved figure in the nerd community that you'd figure he'd made it before this year, when he appeared for his October film Rock the Kasbah. During the panel, he found time to give his thoughts on social justice. 
"The world is changing. It's very slow, and it doesn't change the way we want it ... it's planetary, it's universal," he said. "How do you make it change? It starts with yourself."
10. The Stormtrooper who walked over 600 miles
Sometimes, you don't need the cinematic superheroes of Marvel to find the true heroes of Comic-Con. Kevin Doyle walked 645 miles in a Stormtrooper outfit to pay tribute to his late wife, Eileen. He did so by walking from Petaluma, California, to the convention, all while collecting donations for the Little Angels charity, devoted to helping children being treated for cancer with chemotherapy.
Doyle's walk was an act of "closure." In the process, he gave us a real hero to root for.