Donald Trump Just Used a Shocking Tactic to Help Push His Ludicrous Immigration Agenda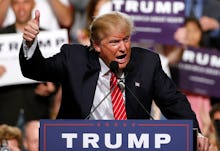 Weeks of financial backlash for his disturbing comments calling Mexican immigrants "rapists" and murderers have failed to slow down Republican presidential candidate Donald Trump's stride. If anything, he's getting worse.
During speeches on Saturday in Phoenix, Arizona, and Las Vegas, Trump brought on Jamiel Shaw Sr., the father of a 17-year-old boy who was killed by an undocumented immigrant in July 2008, to make the case for his proposal to build a giant wall on the border with Mexico.
Trump is tripling down on the anti-immigrant rhetoric: Shaw related the tragic tale of his son's death but made time to specify that some undocumented immigrants allow their children to grow up "like a wild animal." Shaw talked about the threat "sanctuary cities" pose to public safety, a reference to policies in some cities designed to prevent the deportation of some undocumented immigrants back to their country of origin on the basis of minor crimes like traffic violations.
According to the Washington Post, there's little evidence to suggest sanctuary cities are undergoing some sort of crime wave. But by bringing on Shaw, Trump sought to paint people making the kind of racist remarks he does as truth-telling martyrs, turning his flirtation with extremism into a central element of his stump speech.
"People came into the country illegally and killed their children," Trump told the audience in Arizona. "The illegals come in, and the illegals kill their children."
"We call it getting killed by invisible people, because they aren't supposed to be here," Shaw previously told Fox News.
When a Mexican-born attendee at the Las Vegas event told Trump he was insulted by his rhetoric, Trump responded, "I was waiting for this. Did the government of Mexico ask you to come up here and say this?"
In Arizona, Trump also received the endorsement of Maricopa County Sheriff Joe Arpaio, whose department has been embroiled in multiple legal controversies surrounding its alleged racial profiling, inhumane treatment of inmates and using his office to harass political opponents. Arpaio is currently facing a federal contempt case for violations including "letting officers conduct immigration patrols for 18 months after being ordered to stop them," according to ABC 15. Like Trump, he has also entertained conspiracy theories about President Barack Obama's birth certificate.
Finally, Trump announced that if president, he would "charge" Mexico $100,000 for every undocumented immigrant caught on U.S. soil, saying that the number would "add up" quickly.
Why you should be concerned: Rather than slowing down, the xenophobic, anti-immigrant tenor of Trump's campaign has been speeding up. Trump even promulgated conspiracy theories that the "Mexican government" was coordinating counter-protests being held outside his speeches, as well as argued that former Miss USA broadcaster Univision had broken its contract with him on its orders.
This extreme rhetoric doesn't appear to have hurt Trump. Instead, it's drawn the support of a segment of Republican primary voters who want to hear exactly these kind of accusations from their nominee. A recent Reuters/Ipsos only poll found Trump's support at 15.8%, just short of former Florida Gov. Jeb Bush at 16.1%. Another from YouGov and the Economist actually found him in first place, at 15% support, compared to a tie between Bush and Kentucky Sen. Rand Paul at 8%.
Given his extremism, Trump's campaign is still probably doomed. But Saturday's speeches demonstrate that he isn't willing to go down without a fight — and that fight is going to be ugly, very ugly, all the way down.
"Particularly in Arizona, we have had such a long stretch of this kind of rhetoric and this kind of talk," Arizona Sen. Jeff Flake told the New York Times. "We seem to be moving beyond that here, and this kind of rhetoric just pulls us back."
July 16, 2015, 10:51 a.m.: This article has been updated.