The CEO of Starbucks Just Launched an Initiative to Help 100,000 Millennials Find a Job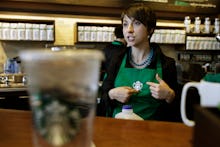 Millennials are facing an employment crisis. While the national unemployment rate is at its lowest point in more than seven years, full-time work remains elusive for millions of young adults: There are 5.5 million Americans between the ages of 16 and 24 who aren't in school and aren't working. Minority millennials are particularly hard hit, facing an unemployment rate twice as high as their white counterparts.
As those millions of millennials search for employment, there remain 3.5 million unfilled jobs in the United States that don't require a four-year degree. Successfully pairing up employers with the millions of highly motivated "opportunity youth," as they've been labeled by the White House, is a task that has so far eluded the federal government — but a coalition of more than a dozen blue chip corporations is hoping to make a dent, under the leadership of Starbucks CEO Howard Schultz.
"Opportunity youth" are highly vulnerable — and highly motivated. While others in the business community have written off the Millennial Generation as too "narcissistic, overconfident, entitled and lazy" for traditional employment, Schultz sees potential for America's greatest workforce.
"They're incredibly talented and resilient, and all they want is a chance and an opportunity," Schultz told Mic in a phone interview. "For almost six million disconnected youth to be cut out of the promise of the country is unacceptable." That's why Schultz and Starbucks have joined forces with 17 other companies to announce the creation of the 100,000 Opportunities Initiative. Announced on Monday in a New York Times editorial written by Schultz and his wife Sheri, the coalition aims to create the nation's largest private sector-led organization to hire underprivileged millennials. Companies engaged in the coalition — including Alaska Airlines, CVS, Hilton Worldwide, JCPenney, Lyft, Macy's, Microsoft, Target and Walgreens — have pledged to help to launch careers for young people new to the workforce through internships, apprenticeships and on-the-job training. The initiative has set its collective goal towards engaging at least 100,000 16-to-24-year-olds who face systemic barriers to jobs and education by 2018.
"This is a very important time in the history of American business," said Schultz, who views curbing youth unemployment as both an economic necessity and a moral imperative. "It's a time when for-profit public companies need to redefine our public role and responsibility — not just to make money, but also do do everything we can to serve the communities that we're doing business in."
For Schultz, the battle for economic opportunity is a personal one. Although his personal fortune today is estimated to be in the billions, Schultz still sees his success as a product of his childhood in a public housing project in Brooklyn. "Anyone who grew up in public housing carries with them the stigma of that environment," said Schultz. "I've been blessed to, in many ways, realize the American dream through the efforts and the blessings of the country and other people who have helped me."
That same opportunity, however, hasn't been afforded to the next generation of would-be entrepreneurs. "Over the last few years, we've all read and witnessed the widening of the gap between those who have and have-not," said Schultz. "It's not an accident that most of these young people are either black or Latino." The 100,000 Opportunities Initiative aims to head off what some economists predict could be a "scarred generation" of workers. Denied the ability to develop skills, experience and specialties during their first years in the workforce, unemployed millennials face up to two decades of lower wages and decreased earning potential compared to their peers with full-time jobs.
For Schultz, that "lost generation" is a cause for national concern. "The country itself will lose a tremendous opportunity: the passion and the resiliency and the talents that these people have," he said. "For me, it's very personal and something I feel very strongly about." Schultz's conviction on the issue extends beyond his role as CEO of the largest coffeehouse chain in the world. The Schultz Family Foundation is also committing $30 million toward assisting millennials find full employment.
Starbucks has a long history of giving a boost to its youngest workers. As one of the world's largest millennial employers, (roughly 80 percent of the Starbucks workforce is made up of people between the ages of 16 and 35), Schultz has committed the company to hiring at least 10,000 Opportunity Youth over the next three years. The goal is to put each of those 10,000 employees on the track to lifelong employment. "There is a long, long history and narrative of people who have joined Starbucks as baristas and have moved up into the company as store managers, as district managers, and have developed long-term careers with the company," said Schultz. 
Many of those hires will be eligible to participate in the company's well-regarded benefits programs. That includes health insurance, as well as the Starbucks College Achievement Plan, which provides full tuition reimbursement for an online bachelor's degree from Arizona State University. "These are all things designed to provide the kind of comprehensive benefits package that can really make a difference in someone's life, even if they are working part-time, and provide the pathway not only to a better life, but to a career," said Schultz. "This will be a pathway to college, instead of just a job."
Those benefits, Schultz says, are a way for Starbucks and other members of the coalition to address the systemic issues that affect opportunity youth, rather than just treat the symptoms. "The answer to all of this is not just hiring somebody," said Schultz. "There's a middle level of transition that must take place. The financial contribution that we're making will provide specific transitional training and opportunities to ensure the fact that we lower the attrition rate [for departing employees], provide a level of self-esteem and a sense of belonging, and do everything we can not only to make the hire ... but make sure the employee sticks."
The coalition gains new employees — and contributes to a better business climate. When factoring in lost earnings, welfare, the cost of criminal activity, healthcare expenditures and unrealized tax revenue, the average opportunity youth costs taxpayers $13,900 per year. If the 100,000 Opportunities Initiative is able to reach its goal, that means savings of more than $1.39 billion for U.S. taxpayers.
"Not everything is about making a profit," said Schultz, but "in the long run, this adds value to the business in ways that you can't measure. I strongly believe that these people feel so strongly that this is not a job that they are entitled to — they have to earn it — and they will demonstrate a level of work ethic and integrity that will inspire the company."
The initiative kicks off with a career fair and forum in Chicago, where participating corporations expect to make at least 200 on-the-spot job offers, and to train at least 2,000 more potential employees. "The 100,000 Opportunities Initiative is creating a meaningful pathway to opportunity for thousands of young people – starting here in Chicago," said Mayor Rahm Emmanuel. "With the right tools and resources, the next generation of Chicagoans can make a measurable impact in our community through civic engagement and strengthen our city's economy."
For Schultz, the strengthening of young communities is the most important aspect of the 100,000 Opportunities Initiative. "We believe we all have a responsibility to help Opportunity Youth productive, self-sufficient mothers, fathers, neighbors, employees and leaders," said Schultz. "Not through charity, but through solutions that are practical."