Mexico's Top Drug Lord Just Pulled off the Most Elaborate Jailbreak Ever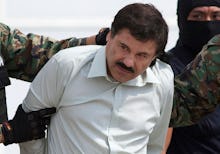 Infamous Mexican drug lord Joaquin "El Chapo" Guzmán has escaped from federal prison, just a year and a half after authorities originally captured him in the resort town of Mazatlán, Mexico, in February 2014.
How it happened: The Washington Post reports that Guzmán escaped from the maximum-security Altiplano prison, a supposed dead end for many of Mexico's top drug lords, via a "nearly mile-long" tunnel that included "PVC piping for ventilation" and a motorcycle hooked up to rails to ensure a quick getaway. The complexity of the escape route, which must have taken considerable effort and resources to construct, suggests that prison officials aided Guzmán's escape.
Soldiers, police and other federal authorities have launched a massive manhunt to retake Guzmán, the head of the Sinaloa cartel, who just years ago was rumored to be worth at least $1 billion. By some accounts, the Sinaloa syndicate at its peak was responsible for more than half of the drugs entering the U.S. from Mexico.
The background: Amazingly, this is Guzman's second prison break. In 2001, he escaped from another federal prison in a laundry truck and had been on the lam until his re-capture in 2014.
As Guzmán's cartel warred to establish control of the southern side of the U.S. border, it was responsible for thousands of deaths that former DEA Special Operations Division chief Derek Maltz told 60 Minutes included electrocutions, beheadings, mutilations and even "throwing people in acid." A psychological profile taken of Guzmán by Mexican authorities after he was captured in 1993 concluded he was "egocentric, narcissistic, shrewd, persistent, tenacious, meticulous, discriminating and secretive."
Under his direction, the Sinaloa cartel developed a staggering array of high-tech solutions for increasing pressure from the federal government, including drug-smuggling submarines, a cannery that stuffed jalapeños with cocaine, catapults, dune buggies and the infamous tunnel networks.
Why you should care: Guzmán's escape is a terrible humiliation for Mexican President Enrique Nieto, who promised Guzmán's capture and, according to the Washington Post, "had been building a strong reputation for arresting top drug bosses from all the major cartels."
The incident also occurs as rival cartels have simultaneously risen to challenge old ones like Guzmán's Sinaloa syndicate or the infamous Zetas, founded by ex-military commandos who first turned to mercenary work for the Gulf Cartel then decided to go into business themselves.
Nieto's faulty anti-drug strategy will worsen relations with the United States, which has put significant pressure on the Mexican federal government to combat the cartels — and specifically worked with them to capture Guzmán in the first place. It is also a reminder that deep-rooted corruption on every level of the Mexican government has made winning the increasingly militarized war on drugs there nearly impossible.
July 13, 2015, 11 a.m.: This story has been updated.