The Police Officer Who Put Eric Garner in a Chokehold Wants Back on the Streets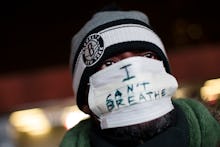 One year after he became one of the most reviled persons in the city, the police officer who placed Staten Island man Eric Garner in a fatal chokehold wants to be put back onto the streets.
According to a recent report in the New York Daily News, Officer Daniel Pantaleo, who avoided felony charges for his role in Garner's death in July 2014, wants to be reassigned from his desk job to a role where he can again be out patrolling and arresting criminal suspects.
He thinks he has a case for a reassignment: "The unbelievable part is this has not soured him one bit on doing law enforcement," Pantaleo's lawyer Stuart London told the paper. "It hasn't diminished his desire to help the citizens of this city."
London says he is confident his client will survive an ongoing federal investigation by the Department of Justice which could bring possible civil rights charges. "They have to prove my client had a specific intent to deprive Eric Garner of a federally protected constitutional right," he added. "Based on all the pertinent information I have, they don't reach that threshold in this case."
As USA Today reported last year, Pantaleo was involved in three separate civil-rights cases brought by black people against him and his fellow officers.
This isn't uncommon: While Pantaleo faces an uphill struggle to get back in a patrol car, officers in the United States accused of misconduct are rarely fired or seriously disciplined, let alone successfully prosecuted.
An investigation last year by FiveThirtyEight found that out of 8,300 police misconduct complaints involving nearly 11,000 officers in the National Police Misconduct Reporting Project's database from 2009 to 2010, just 3,238 resulted in legal action and only 12% resulted in jail time for the officers involved. More specific to the NYPD, a WNYC article in December detailed how ridding the department of abusive officers is difficult because it is hard to separate genuine misconduct from a broken-windows policing strategy.