This 'Hunger Games' Star Just Schooled Kylie Jenner on Cultural Appropriation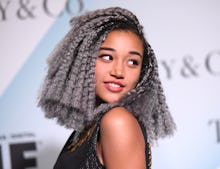 Hunger Games actress Amandla Stenberg and reality TV star Kylie Jenner got into a feud on Instagram this weekend over the latter's new hairstyle — cornrows.
The brouhaha started when Jenner uploaded this selfie with the caption "I woke up like disss" on Saturday morning.
Stenberg, who has repeatedly criticized cultural appropriation in the media and weighed in on race-related issues like protests against police violence in Baltimore, apparently didn't like Jenner's new cornrows one bit. The 16-year-old actress shot back in comments that have since been deleted on the site, but were captured in a screenshot by Vibe:
"when u appropriate black features and culture but fail to use ur position of power to help black Americans by directing attention towards ur wigs instead of police brutality or racism #whitegirlsdoitbetter," Stenberg wrote in the comment.
Jenner responded by claiming "Mad if I don't, mad if I do ... go hang w Jaden [Smith] or something" in the comment section, according to Vibe. One Twitter user pointed out that the apparently condescending reference to Smith, who along with his sister Willow has made some out-there comments in recent interviews, was a little less convenient when you consider that Jenner and Smith used to date.
This isn't the first time Jenner's hairdos have inspired criticism from people of color and their allies. Day of the Girl's Ginger Mayo wrote a similar criticism of the celebrity in February following another Instagram post from a dreadlock-sporting Jenner.
"Women of color, specifically black women, are put under heavy scrutiny all the time about their hair," Mayo wrote. "Natural hair is condemned by our racist societies, and forces women to go through strenuous and expensive procedures such as 'relaxing' hair, straightening, wigs and additional methods all to appease the white employers or community members who condemn this particularly black feature."
As Stenberg put it in a video uploaded to Tumblr, appropriation occurs when people hawk those styles without bothering to respect the culture they're cribbing.
There are probably bigger battles to be fought than over Kylie Jenner's Instagram — either way, Stenberg seems to have won this one handily.
Correction: July 13, 2015
h/t Vibe