These Are the 3 Biggest Reasons Republicans Love Scott Walker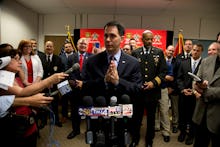 After a week spent watching Donald Trump make a cruel joke of their presidential primary contest, Republicans will once again get to size up a legitimate contender on Monday when Wisconsin Gov. Scott Walker formally declares his candidacy at an event outside Milwaukee.
With the announcement, Walker immediately vaults into top tier of GOP contenders, alongside and in some places ahead of former Florida Gov. Jeb Bush and Sen. Marco Rubio (Fla.). Early polls show Walker leading in Iowa, home to the campaign's first nominating contest. He is also thought to be the preferred choice of the billionaire Koch brothers, who have indicated they will spend heavily — to the tune of $900 million — in the lead-up to next year's presidential election.
Walker joins 14 other declared candidates in a sprawling but competitive field of well-funded and mostly able Republican contenders. A rare conservative governor from traditionally progressive Wisconsin, he first gained national notoriety in 2011 when he pushed for and signed a bill gutting the state's public sector unions. But it was his victory in a June 2012 recall vote, and subsequent reelection last year, that kicked off speculation about his plans for 2016.
Discussing the component parts of the GOP primary electorate last week, Walker campaign manager Rick Wiley told the Washington Post, "There are three legs of the stool" — the tea party, social conservatives and establishment Republicans. "We play in all three," Wiley said. "Who else does?"
At least a few rival campaigns might raise their hands here, but Walker enters the race uniquely at ease among the key constituencies of an increasingly splintered party.
Here are the three big reasons Republicans of all stripes are drawn to Wisconsin Gov. Scott Walker:
1. Walker is a ruthless opponent of organized labor.
Wisconsin, like many states in the Midwest, has traditionally been home to strong labor unions. But in less than five years under Walker, organized labor has suffered a previously unfathomable series of setbacks. The streak began in 2011, when the new governor signed a law called Act 10, stripping public sector unions of nearly all their negotiating powers. After weeks of protests, including an occupation of the state capitol in Madison, labor leaders launched a recall election. 
In what became a proxy war between the unions and industrial boardrooms, Walker, with the backing of the Koch brothers and state Chamber of Commerce, defeated Democrat Tom Barrett for the second time in less than two years. Walker is the only governor in American history to survive a recall challenge. In the National Review, right-wing think tank veteran Henry Olsen was already looking ahead.
"Surely this will embolden conservative Republicans to follow in Walker's footsteps," Olsen wrote following the vote in 2012, "but the electoral aftermath of this defunding of the Democratic party shock troops won't be felt until 2014 or 2016 at the earliest."
Two years later, Walker won a third statewide race, capping off his reelection bid with more than 52% of the vote.  
On the back of that convincing victory, and despite earlier comments suggesting it was "not a priority," Walker in March of this year signed a bill making Wisconsin the nation's 25th "right-to-work" state. The new law allows workers in unionized workplaces to keep their collectively bargained protections even if they choose not to carry on paying their dues. With organized labor inevitably depleted, wages should fall while profits grow.
2. Walker is a strict opponent of same-sex marriage and abortion.
All 15 Republican candidates oppose same-sex marriage, but Walker has been especially vocal in his support of a Constitutional amendment to ban it. He called the Supreme Court's June decision to overturn the remaining state prohibitions a "grave mistake" and, in promising "the government will not coerce you to act against your religious beliefs," signaled how he might seek to undermine the ruling.
On the question of abortion, Walker is equally conservative. In 2013, Wisconsin became one of the first states to require those seeking the procedure to first undergo an ultrasound. The law is painfully specific, ordering doctors to "provide a medical description of the ultrasound images including the dimensions of the unborn child and a description of any viewable external features and internal organs of the unborn child."
Last week, Republican state legislators in Wisconsin passed a bill that would ban abortions after 20 weeks of pregnancy. Walker said in March he would sign the bill if it arrived at his desk, and he is expected to do just that in the coming weeks.
In an open letter published by the conservative Susan B. Anthony List, the future presidential candidate also promised to "support similar legislation on the federal level." 
3. Walker can raise money, convince independent voters — and win when it counts.
After two consecutive general election flops, Republicans are looking for a winner in 2016. Walker, for all of his flaws — he's already run into some serious trouble on foreign policy questions — has shown he can take on and defeat Democrats at the polls and in bruising fights over contentious issues. This will be a central theme of his campaign.
"We fought and we won," Walker says in his announcement video, released early Monday morning. "In the Republican field, there are some who are good fighters, but they haven't won those battles."
This is a clear dig at Sens. Rubio, Ted Cruz (Texas) and Rand Paul (Ky.), who have been the source of vocal opposition to President Barack Obama while mostly failing to move any meaningful legislation to beat back his agenda. Bush, who has a conservative record to match Walker's, has so far been unwilling to stake out far-right positions for fear of alienating more centrist voters in a general election campaign.
Walker, meanwhile, has managed to push strict conservative policies while keeping independent voters on his side. And unlike other more strict conservatives, he will not be outspent in 2016. A range of super-rich donors, among them the billionaire brothers Charles and David Koch, have all but given their endorsement. With money to burn, Walker can afford an early stumble, a luxury only available to a select few in this crowded field. 
Next up: Expect Walker to focus on his neighbors in Iowa for the foreseeable future. Victory there, along with strong showings in New Hampshire, Nevada and South Carolina, will position him well for what figures to be a long and grinding primary race.