This Is What Happened When Race Came Up at Miss USA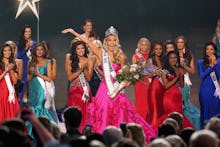 On Sunday night, competitors in the Miss USA pageant were subjected to a tough series of questions about race and race-related topics — and by and large, the answers fell pretty flat.
For the most part, the answers were indicative of how restrictive of an environment the Miss USA pageant is, in which only the most tepid and mainstream opinions can be expressed without posing a mortal threat to the contestant. As one of the biggest subjects in the country right now, race is especially tricky. This imposition of radical non-offensiveness is just as by design as the beauty norms the pageant cherishes. It's fundamentally reactionary.
Miss Nevada, Brittany McGowan
Q: "What would you do to improve race relations in the U.S.? Please be specific."
A: "What I would do to improve race relations in the U.S. is get more races grouped together, and be able to be with each other in a, in a non... I think what we need to do is bring... we need to be more accepting of each other and we need to bring people together."
Miss Rhode Island, Anea Garcia
Q: "Recently, comedian Jerry Seinfeld spoke out against political correctness in our culture. Do you think political correctness is hurting or helping this country, and why?"
A: "That's a very good question. I think that it's a balance of both. We definitely need... I'm sorry, could you please repeat the question once more?"
[The question is repeated.]
"I think that it's a balance of both. We need the people to remind us, and especially the politicians to remind us what to do right and when to do wrong and it's never—" [The time limit is reached.]
Miss Oklahoma, Olivia Jordan (and the newly crowned Miss USA 2015)
Q: "The Confederate flag, excessive force by police and same-sex marriage are all recent hot-button issues in our country. What do you think will be the next that we need to tackle on a national level?"
A: "I think that we still need to talk about race relations in this country. We have not solved this issue. We are still having problems and we keep hearing about new issues that are coming up. We really need to work on being an accepting society and be a society where every single person, no matter your race, no matter your gender, is given the same rights and privileges and opportunities."
McGowan made a fumble by providing a very vague and non-answer answer, and while Garcia's question was more broadly about political correctness, she too found herself floundering while trying to address the related topic. Jordan did actually offer a succinct and fairly accurate answer about race relations; however, given the short time limit and the kind of answers found in these pageants, her message was mostly generic and vague.
In fairness to the Miss USA contestants, it's tough (and probably unfair) to expect revelatory answers from beauty pageant competitors who are likely judged much more on their physical appearance and talents than their political astuteness. Plus, it's extremely difficult to answer these questions under pressure, as noted by former Miss USA 2014 competitor Brittany Oldehoff.
Twitter was quick to react: From calling out the pageant's fundamental inability to address any racial issues critically to simply bemoaning the lack of deep answers, some social-media users were quick to offer critiques.
But, to be fair, perhaps is was a bit ludicrous it was to put the ladies in this position in the first place: