Donald Trump Launched a Twitter Storm Over the Mexican Drug Lord Who Escaped From Prison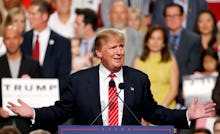 When Mexican drug lord Joaquín "El Chapo" Guzmán escaped from the country's most secure prison over the weekend, he made international headlines. The cocaine kingpin helms the famously violent Sinaloa cartel and is estimated to have brought more than 200 metric tons of the stuff to the United States since the 1990s.  
But few people were as angry about it as real estate magnate and current Republican presidential frontrunner Donald Trump.
In a series of tweets Sunday night and Monday morning, the billionaire and Apprentice host, who has made the threat posed by illegal immigration and Mexico a hallmark of his campaign, tore into the news, framing it as more evidence of Mexican malfeasance and the vindication of his own positions.
Trump's words are just the latest example of his taking specific and isolated events to support the controversial claims made during his campaign announcement last month. In the June 16 speech, Trump accused Mexicans of being "rapists" and "bringing drugs." 
When an undocumented immigrant shot and killed Kathryn Steinle in San Francisco on July 1, Trump seized the moment to decry how the gunman, Juan Francisco Lopez-Sanchez, had been allowed to stay in the U.S. illegally. Lopez-Sanchez had, in fact, been deported on multiple previous occasions. Most recently, at campaign rallies across the Southwest, Trump brought Jamiel Shaw Sr. on stage to talk about his son, whom an undocumented immigrant killed in 2008. During a congressional hearing earlier this year, Shaw compared Mexican immigrants to wild animals. 
When it comes to policy prescriptions, Trump also takes a novel approach. At his rally in Phoenix, on Saturday, Trump suggested charging Mexico $100,000 for every undocumented immigrant who entered the United States. It was unclear how the fines would be levied or how he would coerce Mexico into paying. Trump didn't dive into those details but instead assured the crowds not to worry because he was "like, a really smart person," the New York Post reported.   
On the campaign trail, Trump has referred to a "silent majority" of Americans fed up with the current system. The real silent majority, however, are the millions of hardworking undocumented immigrants in the United States who are not dealing drugs or "doing the raping," but have instead come for the same reason everyone else did: seeking a better life for themselves and their families.