In One Quote, Bill Murray Captures What We Should All Be Saying About Miley Cyrus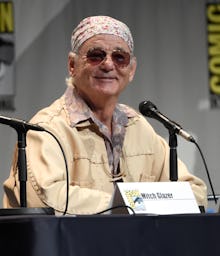 At his finest, Bill Murray is unpredictable. But we can always count on the comedy world's favorite inebriated sage to drop fine truths. Last week at San Diego Comic-Con, he discussed Miley Cyrus while participating in a panel about his upcoming film Rock the Kasbah. After he met Cyrus while filming an upcoming Netflix Christmas special, Murray became a bona fide Smiler, and he wants the rest of the world to know why.
While listing off all the guests who appear in the special, he got to Cyrus. And when he did, he paused to make an official announcement:
"I'm gonna say this officially: Miley Cyrus is good," Murray said. "I was not particularly convinced, but Miley Cyrus is really fucking good. She can really sing. I thought she was a knucklehead crazy girl, the kind of girl you'd want to go on a road trip with. But she can really sing. She floored everybody: [former Letterman bandleader] Paul Shaffer, George Clooney. All these guys were like, 'Holy Christ! This girl can really sing!' I don't wanna hear any bad rapping on Miley Cyrus."
Murray has spoken. The quote encapsulates the conversation surrounding Cyrus: She's a hell of an artist and a hell of a singer, yet her onstage antics, including the twerking and gratuitous nudity, can mask her talents. People, including Andrew Korner at QT and trolls at a number of publications, have claimed her theatricality is a tactic to compensate for a lack of musical talent. But if there was no musical substance behind it all, her 15 minutes of fame would have been up a long time ago (case in point: Robin Thicke).
Cyrus' talents have emerged again and again. Her Backyard Sessions cover country greats like Dolly Parton and James Shelton; her Happy Hippie acoustic sessions feature collaborations with esteemed artists like Joan Jett, Laura Jane Grace from Against Me! and Ariana Grande that raise awareness of her charity benefiting LGBT and homeless youth. There is an extremely powerful voice hidden behind that overactive tongue.
"When you have all eyes on you, what are you saying? And that's what I had to ask myself a lot," Cyrus told the Associated Press in May. "It's like, I know you're going to look at me more if my breasts are out, so look at me. And then I'm going to tell you about my foundation for an hour and totally hustle you."
But none of this should distract from her musical talent. Vocal experts and celebrities have been praising her voice for years, but it remains trying to earn respect. "People who don't like her voice can never pin it on something technical," says Micah Plissner, a Los Angeles-based vocal coach, told the Daily Beast. "They always just say she's annoying. I think they just have a personal problem with her style, and are talking about her delivery and persona."
Cyrus is a talented singer, and none of the ways she uses her body should distract from that.