David Letterman Made a Brief Comeback to Roast Donald Trump With a "Top 10 List"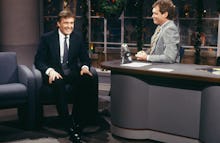 David Letterman took a brief, surprise break from retirement on Friday, when he made a guest appearance at the San Antonio, Texas, stop of Martin Short and Steve Martin's comedy tour.
And during the show, it took less than five minutes before Letterman took a bite into comedians' juiciest subject of late: Donald Trump. 
An opportunity worthy of any entertainer returning from retirement, Letterman started feeling the pockets of his jacket as if he were searching for something, only to discover an envelope in his breast pocket.
"What is this, Dave?" Short asked in his signature campy tone. 
"Well, every suit I own comes with a 'Top 10 List,'" Letterman responded, to a crowd which immediately erupted into cheers. "Take a look at the list I have here tonight: 'Interesting Facts About Donald Trump.'" Prepare yourself to remember how much we miss Letterman on late night television. 
"Number 10: That thing on his head was the gopher in Caddyshack."
"Number nine: During sex, Donald Trump calls out his own name."
"Number eight: Donald Trump looks like the guy in the lifeboat with the women and children."
"Number seven: He wants to build a wall? How about building a wall around that thing on his head."
"Number six: Trump walked away from a moderately successful television show for some delusional bullshi... Oh, wait. That's me."
"Number five: Donald Trump weighs 240 pounds. Two hundred and fifty with cologne." 
"Number four: Trump would like all Americans to know that thing on his head is free-range."
"Number three: If president, instead of pardoning a turkey on Thanksgiving, he plans to evict a family on Thanksgiving. Now wait a minute. For number three, we have a tie. It's tied with: That's not a hairdo, it's a wind advisory."
"Number two: Donald Trump has pissed off so many Mexicans, he's starring in a movie entitled No Amigos."
"And the No. 1 interesting fact about Donald Trump: Thanks to Donald Trump, the Republican mascot is also an ass."
You're welcome.