This Kid's Prosthetic Arm Is a Laser Gun Made of LEGO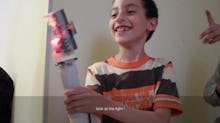 A little boy named Dario is having the time of his life after a Sweden-based designer built him a prosthetic arm out of LEGO. Oh yeah, one more thing — and it shoots lasers.
Carlos Arturo Torres designed the IKO Creative prosthetic system to give kids with disabilities a tool that's as fun as it is functional. 
How it works: The system contains a socket full of motion-reading myoelectric sensors and a battery that attaches to the limb. A motorized "muscle" component takes those motion signals and, with a small engine, sends those signals to a prosthetic hand — or, in this case, a laser-gun-equipped rocket ship.
When Torres took the prosthetic to Bogotá, Columbia, for Dario to try, he also built a bunch of different LEGO-based attachments to go with it, including that space ship, a tractor and a few types of gripping hands.
Dario had a blast with it.
"What if kids could use their imagination to create their own tools according to their own needs?" Torres asked on his project's website. "Disabled kids' needs are not always related to physical activity but often alternatively the social and psychological aspect; what if kids could make their own prosthetics and have fun at the same time? Learning. Creating. Being kids."
Watch Dario's new arm in action:
All over the world, scientists are using 3-D printing technology to change the lives of children born without limbs. The latest developments come, in part, thanks to how cheap 3-D printing technology is becoming: Although it takes research and money to build the interface between bodies and prostheses, scientists can now create functional body parts from things they picked up at Toys "R" Us. 
3-D printing is empowering children with handicaps to do more than replace lost function. For Dario, that laser-gun hand isn't just practical. It's letting him be a kid.