There's an Amazing New Trend That Every Super Organized Person Will Love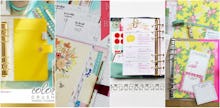 With our Google Cal invites, task apps, voice memos and alarms left for ourselves, function has seemingly trumped design in the world of keeping organized.
But if you look closely, you'll see an old-school movement starting to emerge. 
In the age of online invites and email, a younger generation has seemingly discovered the joys of planners, notebooks and stationery. In the newest iterations, these desk tools aren't just functional, they're more aesthetically pleasing than ever — perfect for carefully arranging on your desk, snapping a pic and sharing on social media. The list of trending hashtags pretty much sums it up: #PlannerAddict. #PlannerLove. #PlannerCommunity. #PlannerNerd. #Stationery. #ListersGottaList.
With beautiful colors, bindings and pages with accessories in the form of pens, stickers and other add-ons, these aren't your everyday, white, lined planners you used in grade school. These are Pinterest-perfect, and there's a whole social media world devoted to them.
A network of #PlannerAddicts: The fascination with planners and their accompanying accessories has spawned entire subcommunities on Instagram and Facebook, where devotees share their daily breakdowns on their planners with one another and browse new items. Often, these groups and hashtags form around a particular brand or type of planner, like Erin Condren, Websters Pages and Simple Stories, Linda Auclair, the blogger behind lifestyle and scrapbooking site Bliss, told Mic.
Challenges on social media have also helped propel the fandom surrounding planners to new heights. One growing community, #ListersGottaList, was founded by Cori Spieker of The Reset Girl, where she includes video challenges that break down how to scrapbook and organize a monthly planner. 
Enthusiasts can also sign up for the Planner Addict Box, a subscription service à la Birchbox where you can get a new shipment of planner supplies every month for just $15. There are even planner meet-ups, where fellow #addicts can compare goods and meet others in the community.
Fans ultimately become enthralled with the endless customization options, like stickers and charms, and the trend has really taken off in the last year or so, Auclair said. Her own fascination with planners began 20 years ago, when she worked on the product development team for a greeting card company. Today's planners, though, bring things to new heights.
"I have seen some absolutely amazing planners that go far beyond keeping track of scheduled appointments, into the realm of memory-keeping or art journaling," Auclair said.
The beauty of going old-school: Fans of print planners, notebooks and stationery interviewed by Mic repeatedly pointed out the personal feel their supplies take on. Scribbling in an appointment takes on new life when color-coded, done with a fancy gel pen or accompanied by a sticker; it becomes a moment to show off creativity and perhaps even provide motivation.
"I love planners that have quotes or things that encourage me and motivate me to bring my 'A' game every day," Cynthia Castillo, a high school teacher, told Mic via email. She said that she uses online calendars and transfers content from one to the other, since writing allows her to think through her projects, while digital ones help with alarm reminders.
"Sometimes I'll go back and fill in events that have passed just to have something on there," she said, adding that she breaks down her days hour by hour. "When I'm good about filling it out, I feel accomplished when I look at it."
Skeptics might say printed stationery is a thing of the past, but newer companies like Easy, Tiger have come into the mix, convinced that the market isn't dead — it just needs some readjustment.
"There's a lot of room for growth in stationery," Easy, Tiger co-founder Mike Sayre told NPR's All Things Considered. "It just has to be done in a different way, and I think everybody is trying to figure out what that different way is." 
Somewhere in the middle of the spectrum are innovative companies like Paperless Post which try to play both sides of the coin in the market. Their custom stationery with envelopes and traditional typography come in a digital format that can be emailed, blending old-school aesthetics with real-world convenience. 
But tellingly, even Paperless Post now has an actual paper line of products, with a company rep telling Mic, "For a company called Paperless Post, a surprising percentage of our sales come from paper orders, and we've seen steady growth ever since we first started offering paper." For print enthusiasts, no matter how customizable digital notecards and calendars are, they can't hold a candle to a real, tangible letter or planner. 
Especially one you can share on Instagram, on the picture-perfect white background, with a binder's worth of hashtags.