Even Fox News Owner Rupert Murdoch Has Had Enough of Donald Trump's Anti-Mexican Racism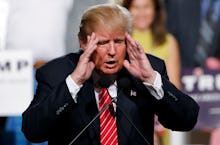 It's not every day the Internet erupts in applause over Fox News chief and self-described "billionaire tyrant" Rupert Murdoch.
On Monday, however, even Murdoch said he's had enough with the antics of current 2016 Republican presidential frontrunner Donald Trump. Responding to Trump's doubling and tripling and quadrupling down on anti-Mexican comments made during his campaign announcement last month, Murdoch pulled no punches:
Unlike much of the content broadcast from Fox News, Murdoch's claim checks out in spades. In a 2014 Congressional Quarterly survey, El Paso, Texas, was rated the No. 1 safest city in the United States with a population over 500,000, a distinction it's proudly held for multiple years in a row. As the largest border city in the U.S., it regularly sees large influxes of undocumented Mexican immigrants.
Yet for Trump, the anti-Mexican train has long since left the station. During rallies across the Southwest this weekend, the candidate continued to blast undocumented immigrants, whom he has called drug dealers, criminals, rapists and "disease-carrying." 
In Phoenix on Saturday, Trump spoke to 5,000 supporters, continuing to hammer home his message and promising he would charge Mexico $100,000 for every undocumented immigrant found in the United States. Trump preemptively allayed concerns about the logistics, reminding the crowd that he was "like, a really smart person," and that he had gone to the Wharton School of Business. With Republican grandees publicly fretting over his behavior, Trump has shot to the top of the polls. 
The first Republican debate of the 2016 race is set for Aug. 6, and with really smart candidates like Trump set to dominate the stage, anything can happen.