Nightmare Conditions at Florida Hospital Are Everything Wrong With How We Treat Veterans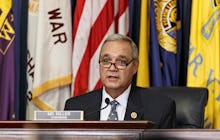 Dead rats falling from the kitchen ceiling. Cockroaches found on eating trays. Buckets filled with bugs, dead rodents and feces.
Such were the conditions at the James A. Haley Veterans' Hospital in Tampa, Florida, earlier this summer — a place where America sends its military veterans to receive treatment for physical injuries, PTSD and a range of other ailments.
Staff emails obtained by the Tampa Bay Times in mid-June revealed an ongoing pest control problem at the facility, which houses 415 authorized hospital beds, according to its website, and another 118 at an adjoined nursing home.
"I was notified today (and received pictures of) three large dead rats that fell through the kitchen ceiling last night," wrote Miriam Ruisz, the hospital's Infection Prevention Coordinator, in a horrifying email to hospital employees June 19.
More from the Tampa Bay Times (emphasis is ours):
"I have also been made aware that there is a major roach problem in the kitchen and that some roaches have been found on patients' trays. I was told that two months ago when FMS replaced the Canteen kitchen ceiling they 'filled multiple buckets with roaches, dead rats and feces'.
*Sad face* indeed. Last week, Haley Veterans' Hospital spokeswoman Karen Collins confirmed to the Military Times that a "multi-disciplinary enviro team" — like Ghostbusters, but for real-life pests — had been established to combat this problem.
"We make every effort to provide the safest and best experience possible for veterans who entrust us with delivering the care they have earned and deserve," she wrote in an email July 10.
But this incident comes during a particularly rough stretch for our nation's Veterans Affairs health system: Last week, another VA hospital in Leavenworth, Kansas, had to shut down its operating rooms when employees discovered they'd been invaded by more than 100 bats, according to KHSB News in Kansas City. One staff member also found a bat in a locker room trash can.
In an April 2014 exposé, CNN also reported that multiple veterans had died waiting to see doctors through Phoenix's Veterans Affairs Health Care system. The Associated Press reported at least 35 dead, many of whom were on a "secret waiting list" set up by VA managers to hide that between 1,400 and 1,600 patients had been waiting months to receive care.
These developments prompted investigations from both the White House and the FBI, which found "significant and chronic" failures in VA medical branches across the country and sparked a nationwide scandal. So far, they've resulted in multiple administrative firings and the resignation of former VA chief Eric Shineski.
That'll teach those veterans to serve their country.
h/t Military Times