Minions Are Officially Taking Over the Fashion World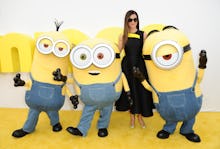 If the minions really are taking over the world, they're at least doing it in style. 
When Sandra Bullock walked the premiere of the Minions movie on June 27, the cameras were snapping away at her from every angle, trying to get the best shot of the Oscar winner's head-to-toe look. But, what really stole the spotlight were her statement-making heels inspired by the mischievous, one-eyed yellow minions who had no doubt left their mark.
Now, those same heels have helped Bullock raise more than $84,000 for the charity organization Art+Practice, according to People's StyleWatch blog. Bidding closed Friday for one of 10 pairs of the custom Rupert Sanderson heels, which included Bullock's signature and featured large, round eyeballs on the front and on back along with eyelash-like trimming.
Each pair sold for up to $4,850 on the site CharityBuzz; Bullock matched the proceeds, bringing the total funds raised up to $84,850, StyleWatch reported.
"When you discover people who are truly giving back, and taking care of our community, I think it's our duty to support and take care of them," Bullock told People.
Minions are muses to designers: It not just Sanderson's custom heels that have taken inspiration from the lovable minions. Other designers have also tapped into growing influence of the yellow troublemakers. After all, the minion fandom has taken over the internet and spawned massive marketing pushes by companies like McDonald's (although not without some reportedly foul-mouthed toy controversy). It only makes sense, then, that fashion wouldn't be too far behind the minion trend.
In June, the U.K.-based clothing retailer Selfridges released the Minions Bello Yellow Collection, with minion-inspired designs from a host of high-end designers, according to Women's Wear Daily. Designer Giles Deacon created a capsule collection with mod-inspired looks that took a cue from the movie Minions, in which the trio of minions travels back in time to the 1960s, Marie Claire U.K. reported.
"It's been a lot of fun," Giles told Marie Claire. "I have long been a fan of Illumination's delightfully flawed characters. The resulting collection is a capsule very much inspired by London in the swinging '60s and pays homage to their enduring style."
Fashion is in on the joke: Aside from the clothes themselves, top fashion designers have also just enjoyed the sheer ridiculousness that the minions represent. In a special online video for the British edition of Vogue, a host of designers chime in on how the minions have infiltrated their design studios, serving as muses and wreaking havoc. 
"Their minion-yellow hands have been all over my empire," Rupert Sanderson, the designer behind Bullock's custom heels, says in the video. Others, like jewelry designer Stephen Webster, haute couture hat designer Stephen Jones and Dolce & Gabbana lend their voices. In one scene, Alber Elbaz, creative director at Lanvin, laments in a deadpan, "I hate yellow, but they made me love yellow." In a later cut he adds, "I'm just upset that everybody knows that I have those minions helping me and doing everything here at Lanvin."
The video shows that Vogue's parent company and the high-end culture of fashion "don't take themselves too seriously," Booth Moore writes for the Los Angeles Times. "[The video says] that fashion can be fun and accessible, just like a summer popcorn flick."
Perhaps, but it's undeniable that the minions have a cheerfulness that's contagious, whether on screen or on clothes. As Sanderson says in the video, "the power of yellow is something we can't deny."
Maybe that's why the Pantone Color Institute created the official "fun-loving" shade of "Minion Yellow" in April. 
If that's not a sign that the minions have taken over, I don't know what is.