Judd Apatow Just Took a Powerful Stand Against Bill Cosby and in Support of Women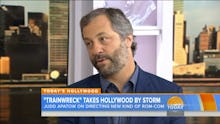 While on a promotional tour for his upcoming film, Trainwreck, Judd Apatow stopped by the Today show on Monday morning and stuck to his guns on Bill Cosby. Apatow reiterated his disdain for the comedian's alleged, and largely believed, rape of dozens of women and said it's about time society stood up for women.
"You have been — whether you've wanted this role or not in our society — you've been the leading voice going after Bill Cosby in the wake of all these allegations by women against him," show host Willie Geist said. "Is that something you did consciously?"
Apatow called on people to stand up for the women making the allegations and to stop being concerned about protecting Cosby's legacy. "We don't have to worry about him. A lot of people got terribly hurt. And, you know, when you go out on a date, you don't need seven prescriptions for Quaaludes."
However, Apatow slightly undermined his comments by suggesting famous people do not need to drug women in order to have sex with them:
But the Today guest ended on a supportive note. When Geist asked Apatow if he thought people were hesitant to condemn Cosby because if his iconic status, Apatow said he believes, in no uncertain terms, Cosby is guilty and there is no excuse not to hold him accountable. The accusations of not just one or a few, but of dozens of women, eliminates suspicion for him. 
Apatow touches on the unfortunate and frequent default assumption that victims are lying or exaggerating and alleged perpetrators are innocent. He aptly notes the responsibility society has to stand up for and support rape victims, irrespective of whether or not the rapist is powerful or famous. Some celebrities have staunchly supported Cosby, even after he admitted drugging women in his own testimony. Whoopi Goldberg, for example, refuses to condemn Cosby and instead said she has "a lot of questions" regarding the allegations. Phylicia Rashad, Cosby's onscreen wife on the Cosby Show, also refuses to point the finger. 
Denialists who defend the comedian — or any alleged rapist, for that matter — implicitly place the blame on victims, suggesting they are at fault or lying. And that is one perverse logic.