Serena Williams Just Won Her 21st Major. So Why Are We Still Talking About Her Body?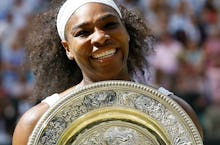 On Saturday morning, Harry Potter author J.K. Rowling tweeted the following message to commemorate Serena Williams' victory at the Wimbledon tennis championships:
Shortly after, Twitter user @diegtristan8 responded that the "main reason for [Williams'] success is that she is built like a man." 
Rowling's clap back has since gone viral. In a moment celebrated by news outlets from Mic to Us Weekly and many in between, the author delivered what some saw as a mic drop for the ages:
The problem is that, by responding this way, Rowling and the rest have unwittingly met this "idiot" on his terms.
Sexism meets racism in sports: That Williams' body is even up for discussion (not to mention subject to an endless series of "defenses," reports and op-eds) is a subtle but very real example of how sexism and racism still inform even our most mundane declarations about the sports world.
It's also telling that — in a year when gender nonbinary identities are increasingly mainstream fixtures in popular discourse — we still conform to Rowling's suggestion that a man, in fact, could not look like Williams did in that dress. 
After all, could he not? Is the premise of differentiating between men and women's essential outward appearance not, at the end of the day, part of the problem? That we still characterize features like bulk and muscle tone as inherently male, and the lack thereof as inherently female, feeds a cycle of narrow-mindedness which ultimately limits how either sex is permitted to present.
A prime example is a now-infamous New York Times article from July 10. The day before Williams took the court for her final match against Garbine Muguruza, the Times chose to focus not on the 20-time majors champion's status as one of the most dominant athletes in recent American history, but to talk, at great and invasive length, about her body.
Through quotes from players, coaches and author commentary, the article highlights the tension some female tennis players say they feel between having a high-performance physique and still looking and feeling "like women." Agnieszka Radwanska's coach Tomasz Wiktorowski told the New York Times, "It's our decision to keep her as the smallest player in the top 10. Because, first of all she's a woman, and she wants to be a woman." 
One unavoidable takeaway is that Serena Williams' physique must make her less of a woman. Another is that NYT page-space the day before the Wimbledon women's final is better spent dissecting the players' bodies than talking about how well they play tennis.
So, it's time to get a few things straight: Williams is, no matter how critics try and frame her, a woman. 
Her body is defined by curves and musculature that don't necessarily fit America's petite-skewing standards of white female beauty. Her body has been attacked as a result, often in not-so-subtly racialized terms. She's been derided as "manly" often enough that fans and advocates are driven to fight back — against both the personal attacks on their icon and the racist, sexist underpinnings of the broader attacks they signify against black womanhood more generally.
But perhaps most importantly, Serena Williams is a peerless athletic force. She's now won 21 majors — one shy of Steffi Graf's record 22, set in 1999 — including four straight, with the upcoming U.S. Open looming as a chance for a fifth. And all before she's turned 34 years old. Any conversation about her that doesn't prominently feature this information is almost invariably remiss.
That we still feel prompted to defend her body is American sexism and racism incarnate. Perhaps one day we'll be able to focus our attention on what she truly is: One of the greatest athletes, male, female or otherwise, this world has seen in a long time.
Correction: July 14, 2015