Spotify Released an Interactive Map to Show What People Are Listening to Around the World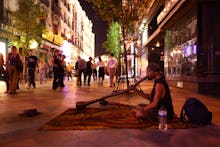 Globalization is real. We can see it in our music. The top tracks in nations with access to popular streaming services listen to a similar group of hits. But this doesn't mean the songs playing in Budapest clubs are entirely the same as those in Brooklyn dives. 
On Monday, Spotify's Insights team released an interactive map that helps listeners identify what's uniquely popular in music scenes around the world. The company has created playlists for nearly 1,000 cities, highlighting songs in each city that have distinctively high play-counts. They parsed through a total of 20 billion listener-track relationships to do so, and identified the songs that help each city's music scene maintain its distinctive character.
Highlights. Across the board, local acts get a big boost from the towns where they're based. According to the data, plays for EDM duo the Chainsmokers are soaring in New York City, while Los Angeles has been showing a lot of love to hometown rapper Dom Kennedy. Across the pond, London is supporting producer Jamie xx, and Berlin is grooving to Mia (not to be confused with M.I.A. or Vietnam's Mi-A).
It's not surprising that cities rep their hometown heroes. But as music is as easily shared with one's next door neighbor as it is with listeners in Budapest, it's encouraging that a little on-the-ground hustle can still get artists somewhere.
Hip-hop's dominance. Another standout from the research is how popular hip-hop is across the world. According to Spotify's press release, rap tracks appeared on cities' unique music playlists more than any other genre. It now comes in every language — MC Nego Do Borel, a Rio De Janeiro favorite, spits in Portuguese; Pianomies, popular in Helsinki, writes Finnish rhymes; and Ceza, topping the playlist in Istanbul, sports a Turkish flow.
Hip-hop has truly become a global movement.
Spotify's map is an excellent way to keep track of music scenes across the world. The best part is it will stay up-to-date as these scenes evolve. The Spotify Insights team has promised to update the map and the subsequent playlists twice a month to keep highlighting the freshest music heard on the streets around the world. Those curious can check the complete lists of playlists here in a raw, stripped down format, or just scroll the map to expand their musical worlds.