Bernie Sanders Slams Donald Trump for His Racist Rhetoric Against Mexican Immigrants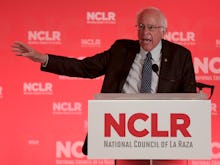 Sen. Bernie Sanders (I-Vt.) took a shot at Donald Trump on Monday, criticizing the Republican presidential pretender's inflammatory comments on immigration during a speech to the National Council of La Raza, the country's most powerful Hispanic civil rights and advocacy organization.
"Not Donald Trump, not anyone else will be successful in dividing us based on race or on our country of origin," Sanders said, addressing the group's annual convention in Kansas City, Missouri. "America becomes a greater nation, a stronger nation, when we stand together as one people and in a loud and clear voice we say 'no' to racism and bigotry."
After the event, Sanders set his sights on Trump again, calling the Republican's recent spate of nativist fear mongering "an outrage."
"For a major candidate for president of the United States to be throwing slurs at one group of people because of the country that they came from is totally unacceptable, period," Sanders said. A Monmouth poll released Monday morning found Trump running a close second in the GOP race, just two points shy of former Florida Gov. Jeb Bush, who leads the field with 15% support.
Uphill battle: Back in June, Rep. Luis Gutierrez (D-Ill.) attacked Sanders for not being as vocal about immigration policy as he is on issues related to economic inequality and money in politics. 
"I haven't heard him say anything," Gutierrez, a supporter of Hillary Clinton and member of the House Judiciary Committee, said during an interview on former CNN host Larry King's weekly political show. "I haven't heard him say anything. He's been kind of quiet and silent. So I hope that when he sees this program he sees that there's a lot of people waiting to hear from him."
Sanders' campaign took immediate exception to the comments, pointing out that the senator had backed President Barack Obama's DREAM Act and supported the bipartisan immigration reform bill advanced out of the Senate in 2013.
On Monday, Sanders made his position doubly clear, calling comprehensive immigration reform with a pathway to citizenship a "critical need" and top priority for this and any future administration. He also spoke at length about the critical role of migrant workers in growing American industry.
"Today's undocumented workers play an extraordinarily important role in our economy," Sanders said. "Without these folks it is likely that our agricultural system would collapse."
Making it personal: In a rare turn, the famously private candidate also spoke about his own family. The son of a Polish-born father who arrived in the U.S. without knowing the language, Sanders cast their story as a prologue to the ongoing struggle for Latino immigrants.
"Your story, our story, my story is the story of America," he said. "It is a story rooted in family and fueled by hope."