The Boy Scouts of America Are About to Lift Their Ban on LGB Adults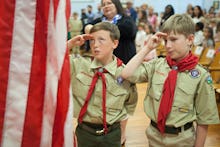 The Boy Scouts of America's National Executive Committee voted unanimously Friday to lift the group's controversial ban on LGB adults working or volunteering with the organization, the Advocate reported. The move puts the century-old club on track to lift the ban outright, assuming the vote is ratified by the group's National Executive Board. The board will consider the matter on July 27, and, if approved, the new policy will be immediately implemented.
"As a result of the rapid changes in society and increasing legal challenges at the federal, state and local levels, on Friday, July 10, the Boy Scouts of America Executive Committee adopted a resolution amending the adult leadership standards policy," a Boy Scouts statement read. "This resolution will allow chartered organizations to select adult leaders without regard to sexual orientation, continuing Scouting's longstanding policy of chartered organizations selecting their leaders."  
The statement added local chapters would still have the right to discriminate against LGB employees and volunteers by respecting "the right of religious chartered organizations to continue to choose adult leaders whose beliefs are consistent with their own."
"I think it's a strong step forward, but I also think it's long overdue," GLAAD communications director Seth Adam told Mic. "Discrimination has no place in scouting, and we hope that the executive board will move this forward swiftly." 
Given the rapidly changing climate for LGBT rights in the United States and the public statements of Scout officials, approval by the executive board appears almost certain. In recent months, BSA president and former U.S. Defense Secretary Robert Gates openly called for the ban to be reevaluated, telling a Scout gathering in Atlanta earlier this year that it "cannot be sustained."  Over time, a number of the Scouts corporate sponsors like Intel and Merck have announced that they, too, could no longer support the organization given its discriminatory policies.
In 2000, the Supreme Court ruled the BSA, as a private organization, could legally discriminate against gay employees. In a 5-4 decision, then Chief Justice William Rehnquist said the court was powerless and that he could not "force the organization to send a message, both to the young members and the world, that the Boy Scouts accepts homosexual conduct as a legitimate form of behavior." Now, 15 years later, public opinion is poised to step up where the court failed — and that South Park episode is about to become very out of date.