11 Breathtakingly Unique Hotels That Will Make You Want to Pack Your Luggage Right Now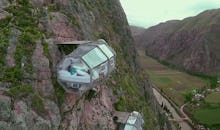 For your next vacation, you could stay at the Comfort Inn. Or you could stay in an abandoned salt mine, in the jungles of India or at a converted undersea research facility.
Here's the summer vacation you should be having in hotels that aren't just unconventional, but outright jaw-dropping:
1. Sala Silvermine Suite, Sala Municipality, Sweden
According to the owners' website, this suite, located 155 meters under an abandoned silver mine, would be just 2 degrees Celsius (a little over 35 degrees Fahrenheit) without heating, but is warmed to a cool 18 degrees Celsius (64.4 degrees Fahrenheit) for the duration of a visitor's stay.
2. The Mirrorcube, Harads, Sweden
The Mirrorcube is a treehouse hotel built with reflective glass sides that make the structure seem to vanish when viewed from certain angles. According to Popular Mechanics, the building is coated with an ultraviolet color to prevent birds from smashing into its sides.
3. Green Magic Resort, Kerala, India
These incredible treehouses allow visitors to sleep in the canopy of the rainforest. According to the regional tourism website, each of the three treehouses available at the resort varies from approximately 60 feet off the ground to a vertigo-inducing 115 feet.
4. Skylodge Adventure Suites, Peruvian Andes
This hotel does not come recommended for those with a fear of heights. The Skylodge Adventure Suites require visitors to scale 400 meters (1,312 feet) of Via Ferrata or otherwise access their rooms with zip lines. According to hotel operator Natura Vive, the suites feature four beds, a bathroom and a dining area.
5. Hotel de Glace, near Quebec City, Canada
No list of extreme hotel experiences would be complete without a mention of Quebec's famous Hotel de Glace, which is made entirely of ice and open only from January to March each year.
CBS reports the four-foot ice walls help to lower the indoor temperature to just 28 degrees Fahrenheit, forcing guests to sleep in thick fur blankets. It additionally has to be sculpted anew each year over the course of a month and a half using approximately 60 workers.
6. River Kwai Jungle Rafts Resort, Kanchanaburi, Thailand
At this Thai hotel, 300-square-foot floating wooden rafts serve as individual hotel rooms, while several other act as the hotel's restaurant and spa. CNN reports that such floating hotels are common in Southeast Asia, especially in the Greater Mekong Subregion, which boasts many rivers, tributaries, deltas and swamps, as well as extreme biodiversity.
7. Kakslauttanen Arctic Resort, Saariselkä, Finland
The Kakslauttanen Arctic Resort gives guests the opportunity to sleep in glass-roofed igloos under the stars, offering a beautiful view of the Aurora Borealis. Other lodgings at the site include log cabins and snow igloos with a provided sleeping bag to stay warm in the freezing temperatures.
8. Quinta Real Zacatecas, Zacatecas, Mexico
This hotel is built into the 17th-century Plaza de Toros de San Pedro, a bullfighting ring, and features suites built into the arches that surround the central arena. If you've ever wanted to live the life of a bullfighter vicariously through tourism, then this beautiful hotel is your jam.
9. Villa Hamster, Nantes, France
According to the Guardian, this 18-square meter space in France has been deliberately constructed to evoke a hamster's cage, right down to the usable hamster wheel. It also boasts "such authentic facilities as containers of organic grain, a water tube which guests can sip and a double bed accessible only by a step ladder and a quick scramble on all fours."
10. Sarova Salt Lick Game Lodge, Taita Hills Wildlife Sanctuary, Kenya
The safari-themed Sarova Salt Lick Game Lodge describes itself as a "luxurious safari escape set in the heart of the Taita Hills Wildlife Sanctuary overlooking a waterhole and the vast Tsavo plains." The stilts allow visitors to watch local wildlife closely, as well as offering a beautiful view of the neighboring savannah.
11. Montaña Mágica Lodge, Puerto Fuy, Chile
This fantastic hotel is actually a "gigantic man-made volcano" that spews water through its peak. Montaña Mágica Lodge is located in the middle of a rainforest and primarily accessible via its hanging rope bridge, as well as zip line.