The Irony Behind the Senate Resolution to Pay the Women's World Cup Champs More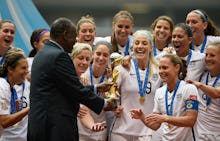 Sen. Patrick Leahy (D-Vt.) called the women who competed in the 2015 FIFA World Cup "role models, not just to girls but to men and boys across the world," on the Senate floor Monday, according to Think Progress. "They should be awarded for their grit, their performance and teamwork rather than devalued for their gender."
Yet the U.S. Women's National Team, as well as all female World Cup players, are undeniably devalued: FIFA, the organization behind the World Cup, enforces a sizable wage gap between men's and women's teams. The organization paid Women's World Cup competitors an incredible 40 times less than their male counterparts were  paid in 2014. In fact, the women's teams earned a cumulative $15 million while the men's teams earned $576 million, according to Politico. 
And despite winning the entire tournament, the U.S. Women's National Team was no exception to this rule. While FIFA awarded the champions $2 million, they awarded an average of $10 million to the final 16 men's national teams that played in the 2014 World Cup. The 2014-winning men's team — Germany — earned $35 million.
Holding FIFA accountable: Leahy hopes to change that. Leahy put forth a formal resolution on the Senate floor Monday demanding FIFA address this pay gap. He countered FIFA's previous defense of this gap — that payment is determined based on revenue disparities — by noting that, as previously reported, the women's World Cup title game drew a record-breaking 25.4 million viewers.
"Revenue should not be and cannot be used for discrimination," Leahy said, adding that other athletic tournaments, like Wimbledon, award champions the same amount no matter their gender or the event's revenue. Even still, Venus Williams famously led a movement to get female Wimbledon champions paid the same as male champs, a practice that has only been in effect since 2007. 
Leahy is not the first to speak out against this disparity. The women's rights advocacy organization UltraViolet, for example, launched a digital campaign earlier this month, which garnered 60,000 signatures in the first 24 hours alone, according to the Huffington Post.
"With the resolution I'll introduce today, let the Senate be on record in support of fair treatment for all Worl dCup champions, and we urge FIFA to change its policy, just as the All England Club did years ago," Leahy noted. "The fight for gender equality continues."
And here's the irony: Leahy's commitment to pointing out this blatant inequality is worthy and necessary. But it's also somewhat ironic considering he represents a nation in which women still earn an average of 78 cents for every dollar a full-time male worker earns for the same work, according to the U.S. Census Bureau — a gap that further widens for women of color. 
Singling out FIFA as a single, sexist organization, therefore, elides the more systemic, global reality of gender pay inequality. While FIFA certainly must create a more equitable pay distribution, so must the United States as well as plenty of other nations whose teams participated in the World Cup. Perhaps in addition to this resolution, Leahy and his colleagues can address this broader inequity as well. 
h/t Think Progress