After Mexican Drug Lord "El Chapo" Fired Back at Donald Trump, Trump Called the FBI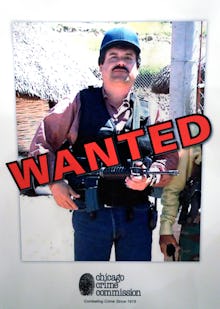 On Monday, 2016 Republican presidential frontrunner Donald Trump went on an extended Twitter rant decrying the escape of Mexican drug lord Joaquín "El Chapo" Guzman. 
Now the cocaine kingpin has fired back. 
In an episode beginning to resemble a scene from Scarface, an unverified Twitter account linked to El Chapo, possibly run by his son Ivan, called out Trump and openly threatened the billionaire real estate magnate.
"Keep fucking around and I'm going to make sure you eat your fucking words, you fucking white piece of shit," the message roughly reads in Spanish.
Though the tweet can't be verified to have directly come from Guzman, it quickly went viral, leading many, including Trump himself, to believe its authenticity.
In his previous Twitter rant, Trump expressed confidence about taking on the drug lord mano a mano through "negotiating." And while the Donald's skills in that area are well-documented, he was seemingly unsure of his ability to negotiate with lead, and instead called the FBI.
Far from a world leader for whom Trump — or anyone — would negotiate with about anything, El Chapo currently helms the Sinaloa cartel, one of the most violent and sophisticated drug smuggling operations in the world. 
Over the last eight years, the cartel has been an integral part of Mexico's drug wars, which have claimed roughly 100,000 lives and resulted in 22,000 disappearances. Under El Chapo's leadership, the organization has brought roughly 200 metric tons of cocaine in the U.S. since the 1990s, producing annual revenue in excess of $3 billion. El Chapo's escape from Mexico's most secure supermax prison by means of a ridiculously sophisticated tunnel, was likely accomplished through the complicity of local Mexican authorities.  
With his open provocations, Trump now has the new distinction of likely being the first presidential candidate to be threatened by a drug lord. With El Chapo on the loose and the first Republican debate now just weeks away, anything could happen.