These Great Actors Were Snubbed by the Emmys for a Very Surprising Reason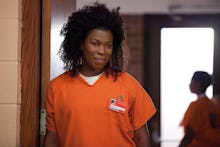 The explosion of scripted TV across an expanding range of platforms (broadcast, cable, streaming, whatever the hell Crackle is) hit a fever pitch this year, as this morning's Emmy nominations made plain. Voters had to choose between 143 shows eligible for Outstanding Drama Series, for example, up from 108 in 2014.
Because so many series, whether drama or comedy, boast stacked ensemble casts, a slew of performances that would have seemed like locks in previous years were absent from this year's nominations, particularly in the supporting categories. But it wasn't just overcrowding that left some of our favorites nod-less this morning.
A jarring Academy rule change caused a number of this year's high-profile performances to be squeezed. In the past, the vagueness of the guest acting categories allowed a performer like Joan Cusack, billed on the opening credits of nearly every episode of Showtime's Shameless (as a "special guest star") to win Outstanding Guest Actress nominations, year after year, for the same role on the same show. (Funny enough, Cusack was nominated for Outstanding Guest Actress once again this year.)
This year, the Academy sought to close this loophole by declaring that any performer who appeared in at least 50% of a series' episodes this season had to submit their name in the appropriate supporting category. The result: Many of the year's best performances ended up getting ignored altogether. Here are a few particularly egregious snubs.
Note: Expect spoilers for the most recent seasons of all these series.
Lorraine Toussaint, Orange Is the New Black
No series is as victimized by supporting-category crowding as Orange Is the New Black. The Netflix prison dramedy features a legion of gifted actresses appearing in most of each season's episodes. Already reeling from a controversial Academy-mandated shift from comedy to drama, Orange wound up with a staggering fifteen performers listed on the ballot for Outstanding Supporting Actress in a Drama Series.
Toussaint, the season two big bad, had the meatiest material. Her Vee, Taystee's (Danielle Brooks) drug-dealer mentor, shows up to do a stint in Litchfield. She scores many of the best of the show's trademark flashbacks, and kicks the season into dramatic overdrive by pitting the inmates against each other. If the rules had allowed the show to single out her closed-ended arc in the guest category, she could have won. Seeing her name alongside more than a dozen of her castmates in the supporting field, however, voters denied her even a nomination.
Garret Dillahunt, Justified
Viewers can get frustrated when a show introduces too many new characters in its final season. But Dillahunt, who some consider to be owed for his comedic work on Raising Hope, brought killer menace — and a killer beard — to his near-silent psychopath character on Justified. He helped FX's Kentucky crime drama maintain momentum as it entered the homestretch. Alas, he appeared in eight of the season's 13 episodes, barely putting him above the Academy's 50% supporting threshold.
Sam Elliott and Mary Steenburgen, Justified
Justified's trademark Elmore Leonard-inspired dialogue was as bracing as a shot of bourbon coming out of Sam Elliott, who played Dillahunt's boss. Boldly appearing without his trademark mustache, Elliott struck a tricky balance of villainy and pathos as a drug (well, weed, but still) kingpin who yearns to start a long-delayed life with the woman of his dreams.
That woman was played by Mary Steenburgen, and she seems like the show's biggest categorization casualty. Cunning, sexy and capping her arc with a balls-to-the-wall brawl in a trailer home, Steenburgen seemed like a natural for a Guest Actress Emmy nod. But the late-breaking category change meant both she and Elliott ended up lost in the supporting scrum.
Ann Dowd, The Leftovers
Like Orange Is the New Black, The Leftovers is disadvantaged at the Emmys by the admirable depth of its actress ensemble. It would be difficult to make the case for standouts Carrie Coon and Amy Brenneman to submit in any category other than supporting.
But Ann Dowd, as the terrifying leader of the show's mute but malevolent cult, could easily have been listed as a guest in prior years. Like many of the villains on this list, she antagonized the main characters and then met a gruesome fate before the end of the season. Amid this year's crowded field, however, she couldn't compete with supporting category stalwarts like Mad Men's Christina Hendricks and The Good Wife's Christine Baranski.
Peter Scolari and Becky Ann Baker, Girls
This year, Girls delved deeper than ever into the lives of Hannah's (Lena Dunham) Michigan academic parents (Peter Scolari and Becky Ann Baker). Scolari made the most of a strong showcase, as his character comes out of the closet after decades of denial. When Hannah naively lets her toxic gay ex Elijah (Andrew Rannells) show her late-blooming father the ropes in New York, Scolari touchingly plays the character's excitement and fear.
Meanwhile, Baker had a number of strong moments as the wife who discovers her husband isn't who she thought he was. A similar storyline on Masters of Sex won Beau Bridges a guest acting nomination and Allison Janney a guest acting win last year. With the rule change bumping them to supporting, Baker and Scolari weren't so lucky. In fact, if Masters of Sex season one had aired during this year's eligibility period, Janney and Bridges may also have been ignored.
Hugh Laurie, Veep
Notoriously Emmy-less Hugh Laurie — a six-time nominee, zero-time winner for House — showed up relatively late in the season on Veep. His vice presidential candidate Tom James rattled flailing President Selina Meyer (Julia Louis-Dreyfus) with his likability and confidence.
As usual, Laurie slayed viewers with his impressive American accent. He played James with an acerbic competence that stood out from the ensemble of flop-sweaty government hacks. Had he shown up two episodes later, he could have competed as a guest.
Chris Diamontopoulos, Silicon Valley
One hallmark of a great guest star is when their performance adds a totally different flavor to the regular cast. Silicon Valley had this type of standout this season in Chris Diamontopoulos.
Temporarily joining the cast as a billionaire investor ("the man who brought radio to the Internet"), Diamontopoulos' bro-ish swagger contrasted with the core ensemble and was responsible for several of the season's funniest moments. It's a clear guest arc with a beginning, middle and end, and it was thrown to the Modern Family-clogged lion's den that is the Outstanding Supporting Actor in a Comedy category.
Joe Morton, Scandal
The supporting/guest rule change even affected actors whose performances were celebrated as recently as last year. Joe Morton won the 2014 Outstanding Guest Actor in a Drama Series Emmy for his monologue-heavy work as Olivia's (Kerry Washington) dad, a curator by day and supervillain by night, on Scandal. Without any expansion in screen time (or an official promotion to the regular cast), Morton was suddenly a supporting actor this year.
As Scandal struggles to find fresh material for its fast-paced plot, the most fertile thread is Olivia's increased understanding that her parents are monsters. This storyline only works because Morton's portrayal is genuinely frightening.
Jane Fonda, The Newsroom
The rule change becomes even more vexing as series seasons get shorter. The Newsroom wrapped its three-season run with six episodes, which Aaron Sorkin managed to churn out between screenplays for biopics of tech billionaires. With the 50% rule in place, poor Jane Fonda, nominated last year in the guest category, suddenly became a supporting player for her brief but showy appearances in just three episodes of television.
Fonda tended to function as the Newsroom's deus ex machina, showing up in the final 10 minutes to save Will McAvoy's (Jeff Daniels) job. It's the kind of performance for which the guest-acting categories were invented.