Why Democrats Should Be Worried About Scott Walker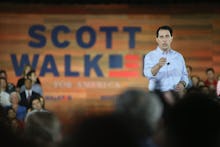 As fun as the past two weeks of Trump mania have been, it's only a matter of time before the record support for racist plutocrat Donald Trump's flash-in-the-pan candidacy evaporates in the heat of its own stupidity.
But even without the antics of a (former) reality television star playing on cable news networks around the clock, the GOP's road to the nomination looks rockier than ever. The party faces a splintered field of more than a dozen candidates, some no more poised to win the nomination in 2016 than they were the last time they ran. How can the Republican Party possibly excite its rank-and-file, inspire its donor class and make short work of a formidable opponent in the general election? 
With the unlikely star power of the field's newest entrant: Wisconsin Gov. Scott Walker.
A normcore Midwestern governor with limited charisma may not be the most obvious heir to the Grand Old Party, but what Walker lacks in pizzazz he more than makes up for in conservative bona fides — and a track record of success that no other candidate can approach. In a field filled with longtime losers and firebrands short on actual accomplishment, Walker has won a string of major victories for traditionally conservative causes as the governor of a state that hasn't voted for a Republican president in more than three decades. As contenders and commentators focus on the glitz, novelty and abject racism of the Trump candidacy, Walker is primed to launch himself into the top tier of candidates — and beyond.
He's a coalition builder at a time of major division within the GOP. The 2012 Republican primaries were a disaster for the party as religious conservatives, Tea Party activists and Wall Street bigwigs engaged in an internecine battle for control of the party's future. Resistance to consensus candidate Mitt Romney pushed disgruntled primary voters to support impossible spoilers — first Donald Trump, then Michele Bachmann, then Rick Perry, then Herman Cain, then Newt Gingrich, then Rick Santorum — each of whom flamed out within weeks of igniting the base's fervor.
The party's woes were exacerbated by a prolonged debate schedule filled with candidates determined to commit political fratricide, and eventual nominee Mitt Romney emerged from the primaries weakened, unable to build a coalition out of a party split along ideological lines. The vicious primary battles led to catastrophic results for the party's general election prospects. The "Growth & Opportunity Project," a 97-page post mortem commissioned in the wake of the party's electoral thumping in 2012, criticized the party's ideological rigidity as its Achilles heel:
The Republican Party needs to stop talking to itself. We have become expert in how to provide ideological reinforcement to like-minded people, but devastatingly we have lost the ability to be persuasive with, or welcoming to, those who do not agree with us on every issue.
Where Romney failed, Walker is primed to succeed, with a "Big Tent" of supporters representing a wide swath of Republican constituencies. So-called "establishment Republicans," whose control over the party's destiny is tenuous, view Walker's half-billion dollar tax cuts and pension reform as good indicators of pro-business success. Small-government Tea Party conservatives favorably view Walker's strong support of Israel (he doesn't believe Palestinians are "ready" for a state of their own) and subsidized charter schools. Evangelical Christians are similarly delighted that Walker, the son of a Baptist preacher, supports an amendment to the the U.S. Constitution that would allow states to forcibly divorce gay couples and has protested a move by the Boy Scouts of America to allow gay adults to serve as troop leaders.
With those constituencies combined, Walker has a cross-divisional appeal that none of the other candidates for the party's nomination can approach.
Those positions are backed up by a long record of major successes. In Walker's official campaign launch video, the governor called out fellow would-be nominees who regurgitate conservative talking points when asking for votes, but have no proven track record of turning those words into action. "In the Republican field there are some who are good fighters, but they haven't won those battles," he said. "There are others who've won elections, but haven't consistently taken on the big fights. We've shown you can do both."
It's easy to promise voters the end of the Affordable Care Act, a strong relationship with Israel and strengthened protections for gun owners, Walker suggests, but a lot harder to actually put that red meat on the plate. That's why his record of legislative and electoral success is such a draw.
The proposal, passage and subsequent legal battle over Walker's 2011 Budget Repair Bill, which slashed take-home pay for government workers by 8% and eliminated collective bargaining rights for most unions, began a three-year battle over the future of labor in the state of Wisconsin. Despite courtroom challenges, protests and an eventual recall election (which he won), Walker successfully squared off with the Democratic Party's national infrastructure. Since then, Walker has signed into law budget proposals that slashed education funding, cut income taxes and required drug testing for welfare recipients, as well as bills requiring voters to show government-issued identification before casting a ballot, mandating that those seeking abortion undergo an ultrasound before the procedure and, despite previous promises, legislation making Wisconsin a "right-to-work" state.
In a purple-ish state that hasn't voted for a Republican presidential candidate since Ronald Reagan, this record of legislative accomplishments is astonishing. From Jeb Bush, whose two terms as the governor of Florida almost a decade ago were defined by a single battle over the right to life (which he lost), to Sen. Ted Cruz, whose list of legislative accomplishments in Congress is scant to say the least, none of Walker's current competitors can boast of records as conservative — or as successful — as Walker's.
But Walker's not without his flaws. The Wisconsin governor, with his Reaganesque habit of plainspokenness (the minimum wage? "Lame."), holds an appeal for Republicans, independents and blue-collar Democrats, who have always been skeptical of Hillary Clinton, giving the Republicans a legitimate edge in Rust Belt states like Ohio and Pennsylvania, as well as Walker's home state and its 10 electoral votes.
Walker's young candidacy carries another important indicator of electoral success: support from billionaire conservatives Charles G. and David H. Koch. Backed by the brothers, who have indicated that they plan to spend nearly $900 million on the 2016 campaign through super PACs, Walker could coast through 2016 without having to eat a single plate of catered chicken and steamed vegetables in search of donor dollars.
Walker's most notable flaw, however, may be his biggest obstacle: a lack of charisma. The nomination of a white, Wisconsinite evangelical already packs a built-in enthusiasm gap when compared to the historical resonance of his opponents' presumed nomination of the first woman at the top of a major party ticket. Add to it Walker's plodding speaking style and cringeworthy social media presence, and the potential nominee's White House dreams could be easily overshadowed by louder, less qualified candidates on the debate stage.
As the first debate draws near — and the national fixation on a spray-tanned billionaire's gadfly candidacy reaches its boiling point — Walker's biggest challenge is to make heard his unimpeachable conservative record over the din of the primaries. It's no easy feat, but if he can manage to out-dazzle the clown car, the nomination could be his for the taking.