Here's What You Can Expect at Pitchfork Festival 2015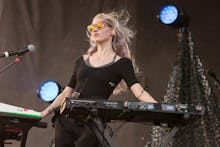 If you're in Chicago this weekend, you're in luck. Friday through Sunday, the Pitchfork Music Festival will be taking over the Windy City and bringing some of today's biggest alternative acts, including groups such as Wilco, Chance the Rapper and Sleater-Kinney.
Held in Chicago's Union Park, the Pitchfork Music Festival has been an internationally recognized music festival for 10 years, with an annual audience of 50,000 attendees from across the nation and 26 different countries.
Pitchfork has been independently run since it began in 2006, featuring new and emerging music as well as some notable mainstream headliners. Past acts have included Kendrick Lamar, Beck, Pusha T, Björk, R. Kelly and Solange Knowles. This year's lineup doesn't seem to disappoint either:
While the entire event promises to be a premier festival, Sunday night is sure to get rowdy given Chance the Rapper's penchant for putting on a great live show. He sure seems excited about it:
Joining Chance are other Pitchfork darlings including Future Islands, Run the Jewels and A$AP Ferg. If you're one of those people who claim to enjoy "absolutely anything but country music," this could be the one festival you don't want to miss. 
Luckily, for those who aren't making the trip to Chi-Town, all of Pitchfork will also be live-streamed via YouTube starting Friday. You can watch the stream below, and check out the full line-up right here.