After Andy Cohen's "Jackhole of the Day" Comment, Twitter Says It's Time to Boycott Bravo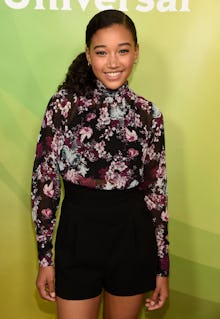 Most people may know Amandla Stenberg as the actress who played Rue in The Hunger Games, but the 16-year-old has more recently taken on the mantle of schooling everyone on the internet about cultural appropriation. Apparently, Bravo's Andy Cohen thinks that holding others accountable for their behavior earns her the title of "Jackhole of the Day"
Here's what happened: Earlier this year, the Internet was flooded with messages from an academic project Stenberg made, in which she explained the problem with people appropriating traditionally black style and culture without actually caring about black people. In the video, titled "Don't Cash Crop My Cornrows," Stenberg talks about how black Americans are deemed trashy or ghetto for wearing certain hair styles or twerking, for example, while white people who do the same things are seen as trendy or interesting. She's since spoken out about other related instances of cultural appropriation, and the portrayals of black people in the media.
Her latest target? Kylie Jenner, who posted a selfie featuring her cornrowed hair on Instagram over the weekend. 
Stenberg commented on the photo, "when u appropriate black features and culture but fail to use ur position of power to help black Americans by directing attention towards ur wigs instead of police brutality or racism #whitegirlsdoitbetter."
Of course, this caused Jenner to counter with, "Oh go hang with Jaden or something," eluding to Stenberg's recent date with Jaden Smith to a school prom. 
Stenberg's comment was deleted, but Stenberg posted her own take on this problem, observing black features like brown skin or full lips are considered desirable, while black women's looks as a whole are devalued. "White women are paragons of virtue and desire, Black women are objects of fetishism and brutality," Stenberg wrote in the post. "Do female black lives matter too?"
However, Monday night on Bravo's Watch What Happens: Live, Cohen said the whole ordeal was "Jackhole" worthy.
"Today's Jackhole goes to the Instagram feud between Kylie Jenner and 'Hunger Games' star/Jaden Smith's prom date Amandla Stenberg," he said, "who criticized Kylie for her cornrows, calling it cultural appropriation." 
Cohen then asked his guests, actress Laverne Cox and former Vogue editor at large André Leon Talley, whether white girls can wear cornrows, to which each replied that it's fine.
Cohen has since apologized to Stenberg for his statements publicly on Twitter:
So, what's with the boycott? Nonetheless, many on Twitter say Cohen's words were disrespectful, which is why they're calling for viewers to abandon the network.  
Even if this were simply a feud between two young women playing out on social media, the issue is Cohen's lack of understanding (or perhaps willingness to understand) where Stenberg's argument is rooted, therefore completely trivializing her stances. Sure, Cohen's program is a light-hearted, boozy chat show, but Stenberg's comments were far from lighthearted. When black women are disproportionately objectified, brutalized or shortchanged, as Stenberg regularly points out, this issue doesn't quite feel like a laughing matter.
July 14, 5:15 p.m. EST: This story has been updated.