Sinead O'Connor Just Called Kim Kardashian the C-Word Over 'Rolling Stone' Cover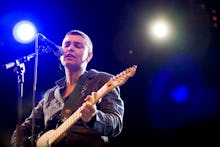 For Sinead O'Connor, nothing compares to the old days of rock stars on magazine covers.
At the beginning of this month, Rolling Stone released its latest issue, featuring Kim Kardashian on its cover. Weeks later, O'Connor caught wind of it. And Tuesday, the singer-songwriter and tactless pop critic told the world exactly what she thought of it in a Facebook post, attacking the Kardashian with some unnecessarily harsh language. 
"What is this cunt doing on the cover of Rolling Stone ? Music has officially died. Who knew it would be Rolling Stone that murdered it? Simon Cowell and Louis Walsh can no longer be expected to take all the blame. Bob Dylan must be fucking horrified. #BoycottRollingStone"
Harsh. It seems that O'Connor's real issue is with Rolling Stone, though Kardashian suffered the brunt of the attack. Kardashian is certainly not the first non-musician to appear on the magazine's cover. Saying her face signals the death of music is dramatic. The publication has made more tasteless choices for its covers in the past (the Boston Bomber cover, for one). Kardashian is tame and a lot more "musical" by comparison.
But O'Connor has a penchant for stirring up public ire. She's famous for tearing up a picture of the pope on Saturday Night Live in 1992. Publications scrambled to placate those her act offended instead of uncovering the meaning behind what her protest signified. In 2013, she attacked Miley Cyrus for the overt sexuality she was introducing into her music at the time. "Don't let the music business make a prostitute of you," she wrote in an open letter. Now it seems that Cyrus is actually the one pimping the industry, using her sexuality to draw attention to the social issues she cares about. 
Whatever O'Connor feels about Kardashian, calling her out on social media how she did is a low blow. But that's O'Connor's style. It hasn't gotten her very far in the past, and it probably won't this time, either.