Newly Released Video Shows Police Officers Fatally Shooting an Unarmed Latino Man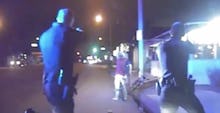 A federal court judge Tuesday mandated the release of police-recorded video showing three officers shooting and killing unarmed Latino man Ricardo Diaz Zeferino, 35, in June 2013 in Gardena, California. From the video, it appears police shot Diaz Zeferino when he removed his baseball cap.
Diaz Zeferino had apparently been trying to help his brother find his stolen bike, though the officers had reportedly stopped him for suspicion of stealing it. Diaz Zeferino's brother reported his bicycle stolen outside a CVS earlier that night, but the dispatcher mistakenly described it as a robbery, with connotations of violence, as opposed to a theft.
Diaz Zeferino allegedly yelled to the police, telling them they had stopped the wrong people. He raised his hands and then discarded two objects from his pockets before raising them again, according to a memo written by a district attorney who reviewed the videos. The second police officer can be seen moving out of the frame.
"You do it again, you're going to get shot," one police officer said, as stated in the memo. Diaz Zeferino went to remove his cap.
Three officers then opened fire, killing Diaz Zeferino and injuring his friend. The video shows Diaz Zeferino doubling over and falling back to the ground.
One of the police officers can be seen moving in front of the camera before shooting, obstructing the view of the incident, but a second dash camera recorded the shooting from a different angle. 
Gardena is paying $4.7 million in a settlement for a federal lawsuit brought against the city. "The videos show cold-blooded shooting of clearly unarmed men," R. Samuel Paz, one of the Diaz Zeferino's family's attorneys, said Tuesday.
As the country continues to attempt to address its own deep-seated issues of racism and police brutality, the video is yet another reminder the problems didn't start with Michael Brown in August 2014, but extended far back, years and decades before that.
Watch the full video below. 
Warning: The footage is graphic.