This Viral Fashion Moment Reveals What It's Like To Be a Black Designer Today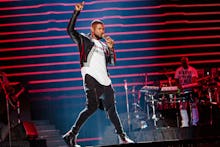 "The whole thing came about with me telling Usher['s team] no," fashion designer Kerby Jean-Raymond told Mic in a phone interview. "But you can't really tell him no — he's really persistent, and he gets everyone to call you until you give in."
So on Independence Day, Usher took the stage at the Essence Music Festival in New Orleans, in front of thousands of people, wearing a t-shirt that crossed out the words "July Fourth" and instead read "Juneteenth," a holiday commemorating the end of slavery in the United States.
The singer's shirt whipped up headlines and social media frenzy from followers of sites like Essence and The Fashion Bomb, as did a matching custom-designed leather jacket that read "Have we truly achieved our independence?" Both were designed by Jean-Raymond, founder of the New York-based menswear brand Pyer Moss.
The excitement around the politically charged clothes demonstrates how hungry shoppers are for these kinds of messages — but also the double bind that many black fashion designers find themselves in.
Eagerness for clothes that get political: Usher's bold-faced shirt wasn't Jean-Raymond's first time combining politics and clothing. In 2014, the Haitian-American designed a custom "They Have Names" shirt featuring the names of 11 unarmed black men killed by police officers in the years preceding. Stylist Shiona Turini borrowed the shirt, which Jean-Raymond had initially just made for himself, and wore it to New York Fashion Week, instantly spiking demand online.
"After that, my girlfriend strongly encouraged me to sell the shirt for charity," Jean-Raymond told Mic. So he partnered with the American Civil Liberties Union to sell a limited-edition run of the design, plus a new shirt featuring the names of 11 women of color killed by police. When the garments went live online, according to Jean-Raymond, the site crashed multiple times.
The limitations of being a "black designer": But afterward, Jean-Raymond pulled back from those sorts of statements. "You're not just a designer at that point, you become a 'black designer'; it becomes all about your race and less about your work, so I kind of wanted to stay away from it," he said.
Race has long played a part in the East Flatbush-bred designer's career. For the first year after founding Pyer Moss, he said, he purposefully designed anonymously, a tactic that was so successful that when Miss Jay of America's Next Top Model walked into one of the brand's presentations, he was surprised that Jean-Raymond was black. 
"That's the reaction I wanted," said Jean-Raymond, who has also designed for high-end lines such as Marchesa. "I didn't want people to put me in an urban category or call my stuff streetwear just because of my race or my age. I didn't want to be put in a category I could never get out of."
Black designer-led brands still a rarity: Being pigeonholed is all the more likely when there are so few visible black designers at all. Earlier this year, the New York Times reported that only about 2.7% of designers at New York Fashion Week were African-American.
That tiny number isn't due to lack of interest. As a student of the High School of Fashion Industries in Manhattan, where Jean-Raymond enrolled at 14, the minority ratio was vastly different than what's represented in the industry. "It was probably like 30% black, 30% Latino, 30% Asian and 10% white," he said. "But a majority of the kids who went to school with me, they didn't stick with fashion."
Jean-Raymond said that's likely due to the financial barrier of entry into the business. Factory minimums and the need for investments can be insurmountable to minorities who don't come from means.
Then there is the uphill battle once within the industry. Of the small group of black designers today, the youngest are typically categorized as "urban" or "streetwear" designers, including brands like Hood by Air by Shayne Oliver and Public School by Maxwell Osborne and his business partner Dao-Yi Chow, as well as Off-White by Kanye West collaborator Virgil Abloh.
When asked whether what he does is streetwear, Oliver once told Fashionista, "I don't get what that means really. Like, what does 'street' mean? What people wear on the subway? What is that? I think it's a categorization that's just lazy."
Striking the balance of fashion and politics: For now, Jean-Raymond is embracing the political side of things. "There's no amount of dinners or partying that I can do that is going to make everybody in the fashion industry like and accept me," he said. "But what I have at the moment is everyone's attention, so while I have that, whether they like me or not, I'm going to make them think."
But he wields that attention carefully, knowing the box he and his business can be put in. The designer employs about 15 people between his design studio and his factory, many of whom are not black. "Many of them don't understand the social plight of the black American, and it would be unfair of me to jeopardize their jobs or longevity of the company because of my personal beliefs," he said. He does plan on designing more "provocative pieces" as one-offs, but they probably won't crop up in his runway shows, including the one this week at the inaugural New York Fashion Week: Men's.
"This is just the game that I have to play right now while the company is growing," Jean-Raymond said. "When we reach the point where the company is self-sustaining and people take the fashion seriously — because that's what we're doing at the end of the day, selling clothes, not politics — I won't have to limit myself in order to play into fashion and politics anymore."
Then he'll be free to design Juneteenth shirts for Usher, as well as high-end collections for the world's best runways — all without being limited by the "black designer" label.