Watch the First Trailer for Tina Fey and Amy Poehler's New Comedy 'Sisters'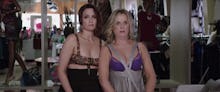 Tina Fey and Amy Poehler are back together again, this time with a twist.
In the first trailer for their new comedy Sisters, directed by Pitch Perfect helmer Jason Moore, we see Fey and Poehler swapping their usual roles — Fey's straight woman to Poehler's wild child, a la 2008's Baby Mama — with Fey as the sister who lives in a higher key.
The plot of the movie is simple: Their parents are selling their childhood home, and they want to have one last party in it before it goes. Judging from the trailer, the movie will use this basic framing explore the difficulties of growing up and, well, sisterhood.
This is the first time the two women have starred in a movie together since Baby Mama, though the onetime "Weekend Update" co-anchors have kept us in love with them by co-hosting the Golden Globes for the past three years. This, however, is exactly what we wanted from them: two of Hollywood's greatest comedic stars bouncing off of each other.
They're not the only highlights of Sisters, though. The movie is chock-full of Saturday Night Live alums and current players like Maya Rudolph, Kate McKinnon and Rachel Dratch. Plus, former Saturday Night Live and 30 Rock writer Paula Pell wrote the script, so we can trust that this batch of incredible women is in good hands.
Sisters hits theaters Dec. 18. Though five months seems far too long to wait, assuage your impatience by watching the full trailer below.