Watch the Teaser Trailer for Jennifer Lawrence's New Movie 'Joy'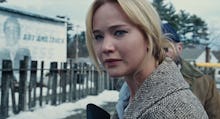 Amy Poehler may be playing Joy this summer in Inside Out, but Jennifer Lawrence will be in a much more intense state of Joy this winter.
The star's new movie is loosely based on the story of Joy Mangano, inventor of the Miracle Mop and a huge presence on the Home Shopping Network. 
It should be noted, however, despite earlier reports and the incredibly obvious similarities between character and real life figure, 20th Century Fox is not calling this a "biopic." It is a story about an inventor named Joy with a sizable presence on a home shopping network. Jennifer Lawrence is playing Joy, not Joy Mangano.
Regardless, Joy's teaser sets up this movie — which is not a biopic — not as a light feature, but an intense bit of drama about the difficulty of business.
David O. Russell, who directed Lawrence to an Oscar in Silver Linings Playbook and another nomination in American Hustle, has taken the helm of Joy. Russell is known for working with the same actors repeatedly, and this project is no different, with Playbook and Hustle costars Robert de Niro, Bradley Cooper and Elisabeth Rohm along for the ride again.
Unlike any of Russell's most recent movies, though, Joy is intrinsically about a woman. It's not about how she relates to her love interest, like Playbook, or as one of an ensemble, like Hustle or Russell's The Fighter. To see a female character take focus is intriguing — this could be quite different from what we've come to expect. 
The teaser is tonally different from what you'd think a movie about a home shopping network magnate based on a real Home Shopping Network magnate. We can't wait to see what this team comes up with.
Joy hits theaters Christmas Day. Watch the full trailer below.
July 15, 2015, 1:25 pm: This post has been updated.