The Police Killing of a Black Man in Mississippi Just Took Another Disturbing Turn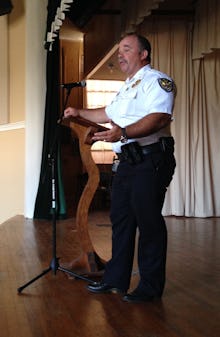 Jonathan Sanders was unarmed when Mississippi police Officer Kevin Herrington allegedly placed him in a fatal chokehold on July 8.
And while the officer didn't need to call Sanders a "nigger" for his death to fit a nationwide pattern of anti-black police violence, that's exactly what happened, according to attorneys representing the victim's family.
The Huffington Post reports that 39-year-old Sanders crossed paths with Herrington at a gas station around 10 p.m., when he saw the officer arguing with a white man Sanders knew . Sanders told Herrington to leave the man alone and departed. According to the report, however, once Sanders had left, Herrington allegedly said, "I'm gonna get that nigger."
Herrington allegedly said, "I'm gonna get that nigger."
Shortly after, Herrington got in his car. A civilian woman was reportedly with him. 
The Jackson Free Press reports that Sanders trained horses and was riding a horse-drawn buggy at the time, so it didn't take long for Herrington to catch up. Herrington allegedly flashed his blue police lights at the last moment, startling Sanders' horse into a bolt. Sanders allegedly fell from his buggy and started running to catch his horse. 
Herrington followed. What happened next — as described to the Huffington Post by Sanders' family's attorneys, C.J. Lawrence and Chokwe Lumumba — was seen by three eyewitnesses related to Sanders by marriage, one of whom works as a corrections officer:
Herrington allegedly grabbed a headlight tied around Sanders' head, pulling it down to his neck and yanking him to the ground. Sanders' body was slumped down in a "praying position" as Herrington allegedly wrapped his arms around the man's neck, placing him a chokehold, Lawrence said.
Herrington allegedly kept Sanders in the chokehold for up to 30 minutes before finally releasing him, the Jackson Free Press reported. By the time paramedics had arrived, Sanders was dead.
"We're just trying to get justice." Stonewall, Mississippi, is a small town with an approximate population of 1,144, according to U.S. Census data from 2013. Seventy-seven percent of residents in that survey were white, 23% were black and 26% lived below the poverty line.
Over the weekend, friends and family and hundreds of protesters reportedly gathered to remember Sanders and demand accountability.
"We're just trying to get justice," Franklin Allen, a friend of Sanders, told WTOK-ABC 11. "It's not about black and white, it's just about right and wrong. We're just trying to bring Clarke County together as one."
The Associated Press reports that the case has been turned over to the Mississippi Bureau of Investigation. Autopsy results are still being analyzed; according to the report, Clarke County District Attorney Bilbo Mitchell said the findings would be presented before a jury as early as September. American police have killed a total of 613 people this year, according to the Guardian's database The Counted.
Meanwhile, the Clarion-Ledger has published an unsurprisingly detailed taxonomy of Sanders' past transgressions, including a pair of drug possession arrests, a conviction, probation and a series of "traffic violations." No reports yet on how often Herrington uses the word "nigger," or whether he is — by his own admission, of course — a racist.
h/t Huffington Post