Abby Wambach Is Presenting Caitlyn Jenner with Arthur Ashe Award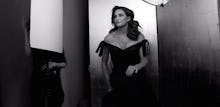 Abby Wambach, a two-time Olympic gold medalist and member of the 2015 FIFA Women's World Cup championship team, will be presenting Caitlyn Jenner with the Arthur Ashe Award at the annual ESPY Awards, Wednesday night on ESPN.
ESPN announced Jenner would be receiving the Arthur Ashe award the same day Vanity Fair published her front page cover and told the world, "Call me Caitlyn." The network stated her "strength of character" in choosing her to be the recipient of the award this year. 
Wambach, one of the most highly regarded players in women's soccer, helped the U.S women's national team defeat Japan 5-2, winning the Women's World Cup. As the stadium cheered the victory, the 35-year-old ran to her wife on the sidelines, leaping forward and kissing her in a now-famous moment for LGBT visibility.
It's perfectly fitting for Wambach and Jenner to take the stage together Wednesday night at the ESPYs. Both have had legacy careers in American athletics, with Jenner being a heralded 1976 Olympic decathlon gold medalist, and Wambach being one of the United States women's national soccer team's most prominent players since she joined the team in 2001. 
This is Jenner's first public appearance since her Vanity Fair cover went viral. Reports indicate she will be surrounded by her family while accepting the award tonight. 
Cue a viral sensation of an acceptance speech.