Marvel Comics Is Celebrating Hip-Hop's Classics With a Series of Reimagined Album Covers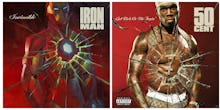 Without years of comic books' colorful influence, hip-hop would be like Peter Parker without his mask — bland and offensively normal. Believe it or not, hip-hop and comic books have enjoyed a long and storied relationship. Now, Marvel is taking this to the next level. In October, the company will release a the full series of more than 50 alternative covers of first-edition comics reimagined as hip-hop classics. The first batch debuted Tuesday, and they're absolutely gorgeous.
Spider-Man and Deadpool as Eric B. and Rakim's Paid in Full
Ant-Man as Notorious B.I.G.'s Ready to Die
"For years, Marvel Comics and hip-hop culture have been engaged in an ongoing dialogue," Marvel Editor-in-Chief Axel Alonso said in a press release, according to BuzzFeed. "Beginning this October, we will shine a spotlight on the seamless relationship between those two unique forces."
Dr. Strange as Dr. Dre's The Chronic
Marvel's announcement comes on the heels of two alternate covers the company shared in January reimagining Deadpool and Howard the Duck with Run the Jewels' logo and aesthetic. In 2009, the Punisher teamed up with Eminem to fight the Barracuda. In 2014, Rae Sremmurd heralded the arrival of the first black Captain America, and Birdman sat rubbing his hands malevolently alongside the Kingpin in The Amazing Spider Man No. 11.
"Comic books are a part of the creative world of a kid in an urban environment," rapper El-P of Run the Jewels explained to Rolling Stone. "You might not admit it on record, but you talk to almost every rapper — we all grew up with that shit. I guarantee you like 80% of any rappers that you meet probably went through a large comic book phase."
The rappers from Wu-Tang absolutely did. Three of their members have comic book-inspired alter-egos — Ghostface Killah aka Tony Starks (Ironman), Method Man aka Johnny Blaze (Ghost Rider) and RZA's Bobby Digital.
Squadron Supreme as Wu-Tang Clan's Enter the Wu-Tang: 36 Chambers
Iron Man as 50 Cent's Get Rich or Die Tryin'
Howard the Duck as Ol' Dirty Bastard's Return to the 36 Chambers: The Dirty Version
The X-Men as De La Soul's 3 Feet High and Rising
These covers are just a fraction of all the work to come. They're an incredible celebration of the shared history of the art forms. Both started out as urban-centric, overlooked and misunderstood "cultural bastard children," and now they're both unbelievably profitable industries. But things change... and that's the way it is.
h/t Stereogum