This Is What Planned Parenthood Actually Does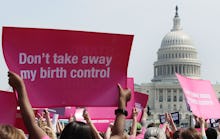 On Tuesday, the Center for Medical Progress — an organization that describes itself as "a group of citizen journalists dedicated to monitoring and reporting on medical ethics and advances" — released a video targeting the women's health organization Planned Parenthood. In a press release published Tuesday, the organization claimed their "undercover footage" revealed the nonprofit organization selling tissue and body parts from aborted fetuses.
Predictably, various conservative figures were quick to condemn the organization. Louisiana Gov. Bobby Jindal called for an investigation of Planned Parenthood, and the Washington Free Beacon reported that former Texas Gov. Rick Perry called the video "disturbing" and claimed it proved that the organization profits off "the tragedy of a destroyed human life." But it turns out their outrage — as well as the video itself — was misinformed and, ultimately, inaccurate. 
"In health care, patients sometimes want to donate tissue to scientific research that can help lead to medical breakthroughs, such as treatments and cures for serious diseases," Eric Ferrero, vice president of communications for Planned Parenthood said in a statement. "Women at Planned Parenthood who have abortions are no different." Just like "every other high-quality health care provider," Ferrero said, several Planned Parenthood centers — with "full, appropriate consent from patients and under the highest ethical and legal standards" — help patients donate this tissue for this purpose. 
The money discussed in the video, Ferrero stated in a memo provided to Mic, were "standard reimbursement fees for costs associated with tissue donation programs, which every health care provider has and which the federal law provides for." They were not, as the Center for Medical Progress claimed, profits.
The inflammatory reaction to this video, however, reveals a much broader truth about the way the public regards Planned Parenthood, namely that far too many still believe the organization is solely devoted to abortion. In fact, 3% of Planned Parenthood's activities are related to abortion, according to the Washington Post. 
Here are the remaining 97% of services the organization provides.
Sex Ed
According to the organization's president, Cecile Richards, Planned Parenthood teaches 1.6 million students sex education every year. In fact, a 2014 study of the organization's middle school sex education program demonstrated that the effort successfully delays sex for both male and female students by the end of 8th grade, Time reported. 
But their education isn't just restricted to the classroom: Planned Parenthood also provides abundant tools for all things sex-related — including body image, relationships and sexual orientation — for educators, parents and young adults alike on their website. 
Birth Control
Over a third of Planned Parenthood's activities are related to addressing American women's widespread need for contraception, the Washington Post reported in 2011. In fact, 20 million women needed publicly funded contraceptive services — such as the free contraception Planned Parenthood provides — in 2012 alone, according to a Guttmacher Institute report, largely because they made an income below 250% of the federal poverty level. While the Affordable Care Act largely requires that health insurers provide contraception, there are exceptions to this rule. Most notoriously, as the Supreme Court ruled last summer, some companies don't have to provide contraception if it conflicts with their religious beliefs. 
Planned Parenthood estimates that it prevents 516,000 unintended pregnancies each year. While plenty are aware that birth control is crucial for empowering women to plan their families, the organization recently launched a hashtag campaign called #BirthControlHelpedMe to reveal the many other ways pregnancy prevention benefits women's lives — including allowing them to pursue educational and professional goals, benefiting their health and more.
Medical Care
Though it's often overlooked completely, Planned Parenthood actually provides crucial health care services to thousands of women. Every year, the organization reports, its affiliates provide nearly 400,000 Pap tests, nearly 500,000 breast exams, 88,000 screenings to women whose cancer was "detected early or abnormalities identified and addressed" and nearly 4.5 million STI-related tests. 
This medical care is especially crucial to the primarily low-income individuals Planned Parenthood reportedly serves: 79% of the organization's patients have incomes at or below 150% of the federal poverty level. In fact, a 2009 Guttmacher Institute report found that the majority of low-income women consider family planning centers like Planned Parenthood their primary health care provider.
Get more stories that help you rethink the world by signing up for our daily email newsletter.