This Artist Took Photos of Herself Naked to Commemorate New York's Former Slave Auctions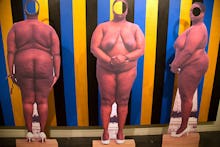 For Nona Faustine, the toughest part of her photography is always the logistics.
"Anybody who does nudes in public knows you have to be quick," she told Mic. A good shoot, she said, could take, from start to finish, around 20 minutes. "I've tried to avoid any encounters with the NYPD for obvious reasons."
Faustine, a photographer, artist and amateur historian, makes history come alive by posing naked at historically significant locations. But you won't see her at the Grand Canyon or on a battlefield. Rather, Faustine's work focuses on overlooked places in and around New York that have played a critical role in the historical black experience, especially slave trading. 
"I have this desire to participate and to bring it forward and memorialize those people who have pretty much gone unacknowledged in New York history," Faustine said. A graduate of Bard College's International Center for Photography, she has been at it since 2012. 
The above image was taken on New York's storied Wall Street. Today, as in the past, the avenue is synonymous with commerce. But during the 18th century, the commodities traded weren't just stock and bonds, but human lives. Between 1711 and 1762, a bustling open-air slave market proliferated from the corner of Wall and Water streets. Slavery itself lingered in New York state through the 1830s. From the very "wall" in Wall Street (which enslaved people originally built in 1653 to keep out hostile Native Americans), enslaved black people played an integral role in the building of the United States, both North and South.
In another shoot, taken not far away at City Hall, Faustine hoped to commemorate an 18th-century African cemetery where between 10,000 and 20,000 free and enslaved black people may rest. The site lay forgotten until 1991, when it was discovered during the development of a federal office building nearby. Recently, New York City Mayor Bill de Blasio and first lady Chirlane McCray commemorated the spot in a more traditional fashion with a plaque.
In another of Faustine's images, faceless cutouts adorn the graves of a Dutch pre-Revolutionary cemetery in Brooklyn, where three slaves are buried alongside early colonists. 
It's a past with which she is intimately connected. Like most black Americans, Faustine is a descendant of enslaved people. "My great-grandmother was an enslaved African," she said. "I grew up hearing my mother tell me stories about her." After coming over on a slave ship with five of her siblings, Faustine's great-grandmother ultimately ended up in North Carolina. At some point, she met Faustine's great-grandfather, and they had 17 children, according to the family recollection.
The centuries-long legacy of oppression and its continuing effects are the motivation behind one of the most striking elements of Faustine's photos: shoes. In her own words, the white heels in each image symbolize "the white patriarchy that people of color can never escape." 
Much of that patriarchy can be seen in the practical manifestations of race in America. Slavery and the cruelty of the Jim Crow era left a staggering wealth gap between black Americans and their white counterparts. In 2013, according to Pew Research Center, the median net worth of a white household stood at $141,000, while the same figures for black homes was just $11,000.
As Ta-Nehisi Coates pointed out in his June 2014 article "The Case for Reparations," black families in the 20th century often faced housing discrimination that forced them into underground mortgages and damaged societal standings even further. Today, black people in America go to worse schools than white people, are more likely to grow up in single-family homes than white people and more likely to be shot dead by the police than white people — 21 times more likely, to be precise. 
While these problems are larger than the scope of Faustine's work, she hopes her photography could help "instill a sense of pride" in black youth. She was equally humble about the monumental work that true racial equality in the United States would require.
"This," she said, "is one step."