Netflix Does Comedy Right With 'Wet Hot American Summer' and 'BoJack Horseman'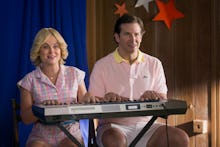 Netflix is doubling down on the laughs this month — but will the gamble pay off?
The subscription-based streaming service is premiering two new shows this month: the new season of the animated series BoJack Horseman, plus the limited series run of Wet Hot American Summer: First Day of Camp. It's double the laughs for a network that doesn't air many comedies, preferring drama and dramedies. They're also proof that, finally, Netflix is getting a handle on what its comedy should look like: niche, star-filled and hilarious.
Wet Hot American Summer: First Day of Camp certainly checks off all those boxes. The prequel to the 2001 movie starring Amy Poehler, Paul Rudd and more, First Day of Camp is the definition of a niche series. The movie was critically dismissed upon first release, only growing a cult following after the fact. Netflix is counting on that niche audience to not just watch the show, but also to recommend it to the desired audience: new subscribers.
BoJack Horseman also suffered much critical dismissal during its first season. The mixed reviews were deserved, considering what critics had available to them — most had access only to the show's first few episodes, while the back half of the season was remarkably stronger. Still, like Wet Hot American Summer before it, the show's greatest appeal lies with a specific audience versus the broader pool of Netflix subscribers. It's the lowest-rated original Netflix series among general users, after all.
What's so great about Netflix is that it doesn't shy away from producing these series. A network might look at them and not see enough mass appeal to take the chance. Instead, Netflix embraces these niche products, targeting them to their specific audiences and inviting those viewers to subscribe.
But there's something these series get that Netflix hasn't always understood: Star power is key. More than that, having those stars together is vital.
In 2013, when the eagerly anticipated fourth season of Arrested Development dropped on Netflix years after the show's initial run ended, fans tore through to see their favorite characters together. For the most part, they were disappointed. The entire cast only shot one full scene together; though that scene was used in many episodes, it didn't help much.
The actors' busy schedules were apparently to blame. Some scenes, including a climactic one between Lucilles Bluth (Jessica Walter) and Austero (Liza Minelli), were green-screened together after the fact. Critical reaction melted from thrill to "meh," especially compared to the original seasons.
Compare that to First Day of Camp, which reportedly went out of its way to make sure Bradley Cooper, now a three-time Oscar winner, could appear in all scenes with his co-stars. Considering one of the most iconic moments from the movie is his character's sex scene with actor Michael Ian Black, this is a great move on their part.
Even for the animated BoJack Horseman, star power stands tall. Here's just some of the cast: Will Arnett, Amy Sedaris, Alison Brie, Aaron Paul, Patton Oswalt, Kristen Schaal, Stanley Tucci, Lisa Kudrow, J.K. Simmons, Margo Martindale, Ken Jeong and Anjelica Huston. That's an incredible group, built for both comedy nerds and general TV and film fans. For a show like BoJack that has to continue growing its audience, such a high pedigree can only help.
For Netflix comedy, star power is key. More than that, having those stars together is the key.
There's more to comedy than stars and characters interacting, of course. Even a great writing team and pedigree can fail you, as they did Netflix's Grace and Frankie. But combined with the first season of Unbreakable Kimmy Schmidt, an undeniable highlight among the streaming service's original offerings, it does feel like Netflix is finally hitting its comedy stride. It finally has shows that can stand tall next to dramatic hits (House of Cards) and critically beloved dramedies (Orange Is the New Black).
It remains to be seen if Netflix can keep this streak alive, however. The network's next comedies aren't expected until 2016, when a new Will Arnett vehicle and a Judd Apatow project will debut, along with a second season of Kimmy. We're more confident in these new shows than ever before, though. Now, Netflix is ready to make us laugh.
Correction: July 17, 2015