Spike Lee's 'Chi-Raq' Confirmed as Amazon's First Original Movie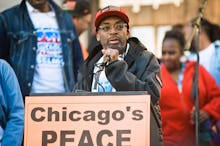 Amazon is taking a huge step forward with the expected December release of its first original movie, Chi-Raq, a film by director Spike Lee, the company announced Wednesday. 
Chi-Raq, a portmanteau of Chicago and Iraq, centers on black-on-black crime in the Chicago neighborhood of Englewood and stars Teyonah Parris, whose character leads a sex strike in protest of the city's gun violence. The story harkens back to the ancient Greek play Lysistrata and will also feature actors Nick Cannon, Wesley Snipes, Jennifer Hudson and Samuel L. Jackson.
The anticipated film marks a turning point for Amazon, a company eager to compete with rival streamer Netflix. Unlike Netflix, Amazon plans to launch the film on the silver screen first before making it available for streaming. Lee and Amazon executives said they hoped the film would make a big enough splash to be considered in next year's awards race.
The company's breakout into the original movie space has caused a stir, in part because of the film's big-name director, Lee, whose movies have often been marked by controversy and typically involve themes of race, poverty and urban violence. 
"We couldn't have come up with a better film to launch our division in every which way. Chi-Raq makes no apologies and dares to shock," Amazon's movie production chief Ted Hope told the Hollywood Reporter. "Spike Lee is one of the most distinct and visionary filmmakers of our time."
Some Chicago leaders took offense to the movie's title, which some consider a slant against the city because of its high crime rates. Mayor Rahm Emanuel was among those who spoke out about the film's name. In a recent conversation with Lee, Emanuel said he expressed his concerns with the director, including he worried the title could give the city a bad name. 
"I was clear that I was not happy about the title," Emanuel told the Chicago Tribune. "I told him also that there are very good people that live in Englewood ... and there's a lot of positive things that are happening in Englewood."
Lee said he recognized the controversy over the film's title but said he wouldn't be dropping it. 
"A lot of things have been said about this film by people who know nothing about the film," Lee told CBS Chicago. "A lot of people have opinions about the so-called title of the film. Again, they know nothing about the film."
Amazon's original movie release comes on the heels of the company's recent successful entry into the television market with shows like Bosch, a drama series about a Los Angeles detective, and Transparent, a show whose main character is transgender.