Caitlyn Jenner Just Delivered the Most Moving Speech at the ESPYs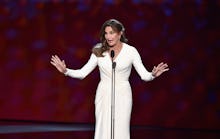 Caitlyn Jenner made her first scheduled appearance Wednesday night since coming out as a transgender woman — and for a very good reason. The athlete attended the 2015 ESPYs, broadcast on ABC, to accept the Arthur Ashe Courage Award. 
About two and a half hours into the program, Jenner gave a passionate speech as her children looked on. She spoke of her transition, the U.S. women's national soccer team and, most powerfully, the treacherous difficulties facing trans people across the country.
"The real truth is before a few months ago, I had never met anybody else who was trans. I had never met a trans person, ever. I dealt with my situation on my own. That turned this journey into an incredible education. It's been eye-opening, inspiring. All across this country, there are young people coming to terms with being transgender. They're learning that they're different and they're trying to figure out how to deal with that. They're getting bullied, they're getting beaten up, they're getting murdered, they're committing suicide."
A short film about the Olympian's life aired before the speech as well, taking us from her time as an athlete through her coming out as a trans woman.
"The ironic part was that the world thought they knew who I was," Jenner says in the film. "But they knew nothing ... I could play that male gender role, but I always felt female. That really scared me."
Abby Wambach, member of the World Cup-winning women's national soccer team, presented Jenner with the honor, focusing on the conversation Americans need to have about the hardships transgender people face.
"Like all of us, I never knew the real story," Wambach said of Jenner when introducing the film that preceded her speech. "I hope watching it does to you what it did to me: Surprise you, teach you and make our country a better place to live and a better model for the world."
LGBT recipient have won the Arthur Ashe award three years running now. Good Morning America host Robin Roberts won the honor in 2013, followed by former University of Missouri player Michael Sam last year.
Jenner emphasized the importance of education, even calling upon the spirit of Ashe. "If there's one thing I do know about my life, it's the power of the spotlight," she said. "With attention comes responsibility. As a group, as athletes. How you conduct your lives. What you say, what you do, is absorbed and observed by millions of people, especially young people.
"My plea to you tonight is to join me in making this one of your issues as well. Trans people deserve something vital. They deserve your respect."
The most powerful part of the speech, however, may have been the conclusion, a call for the understanding that her public process is about helping create a better future.
"For the people out there wondering what this is all about. It's about what happens from here," she said. "It's not just about one person. It's about thousands of people. It's about all of us accepting one another."
Jenner will next be seen in her new E! docu-series, I Am Cait, which chronicles her life during her transition. The series debuts July 26. Watch the full speech below.
July 15, 11:01 p.m.: This story has been updated.