James Holmes Found Guilty in Aurora, Colorado, Theater Shooting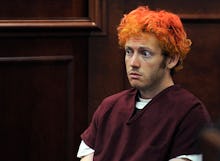 On Thursday, a jury found James Holmes guilty of murder in the first degree after he killed a dozen people and injured 58 more at a movie theater in Aurora, Colorado, on July 20, 2012, at the midnight premiere of The Dark Knight Rises. Another 12 people were wounded trying to escape the carnage. 
Holmes had pleaded not guilty by reason of insanity during the trial. Over the course of the hearing, jurors were treated to dueling psychiatric evaluations from the defense and the court, with some experts claiming Holmes was legally sane. Others insisted the opposite.
Shortly after the massacre, Holmes, with his hair dyed red, reportedly told police he was "the Joker," the cartoonish villain from the Batman comics and films.
The shooting shocked the nation and has been part of a string of gun violence that has gripped the United States in recent years.
A mere five months after Aurora, another gunman, Adam Lanza, stormed an elementary school in Newtown, Connecticut, killing 20 children and 6 adults. In 2015 alone, a biker gang brawl in Waco, Texas, left nine dead, a white supremacist gunman in Charleston, South Carolina, killed another nine in the basement of a church and a serial sniper in Colorado is suspected in at least two deaths in the state this year. 
A concerted effort by Republican lawmakers and the NRA has mostly defeated President Barack Obama's sustained efforts to revive the debate over gun control after the Newtown massacre. During a press conference given shortly after the Charleston massacre, Obama called out those who said he was resigned on the issue and argued, "At some point, as a country we have to reckon with what happens. It is not good enough simply to show sympathy."